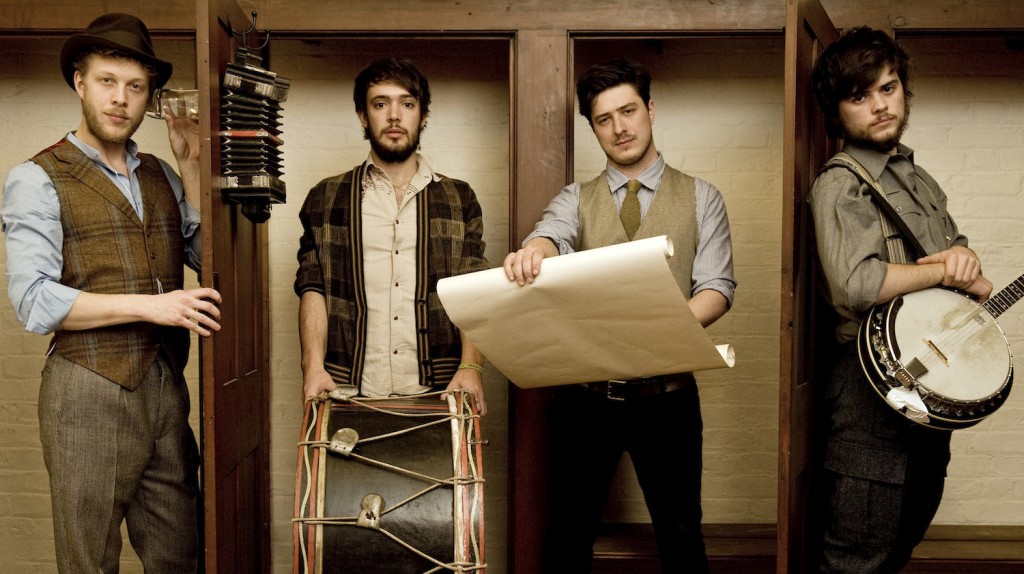 If you want a taster of Arcade Fire live, just look at their televised set at last year's Reading festival. Their sparkliness, their onstage energy, the despairing exuberance of their lyrics all pointed to a juggernaut of a live show at Hyde Park, plus there was the tempting support of Owen Pallett, Beirut and Mumford & Sons.
Poor Owen Pallett. He wrote this song for Arcade Fire's central couple Win Butler and Régine Chassagne, one of the lovelier songs in the world, and co-wrote the string arrangements for Funeral and Neon Bible, yet most of the Arcade Fire-loving audience had no clue who he was. Granted, Win Butler introduced him as "Owen f*cking PALLETT!" making him sound more like a wrestler than the sensitive singer-violinist he is, and his music eschews easy hooks a lot of the time, but he's worth checking out, ingeniously looping and accompanying himself on the violin, finishing with a spirited rendition of 'Lewis Takes Off His Shirt', which he also plays in the rain. The Vaccines followed with a decent set of generic indie-rock, and got a bigger response, which made me a bit sad.
Oh, Beirut! I will always love them for 'Postcards From Italy' and 'Elephant Gun'. Zach Condon has a strong, soulful voice on stage, and I was surprised to see him nervous, given that Beirut have been going for a while and have lots of good material to draw on. 'A Sunday Smile' was really moving, and the strength of Condon's songwriting shone through, but they could have allowed themselves a bigger fanfare.
There were fanfares aplenty for Mumford & Sons, flushed with success and visibly overwhelmed to be on home soil after a long tour of America. Along with well-known hits they played a few new songs, which should keep fans happy as they continue in much the same vein: brave, rousing tunes about standing strong and staying true. The Mumfords would write a great patriotic soundtrack, which makes me mistrust their rousing-ness at times, but even their most self-aggrandising lyrics were delivered with such humility that I was won over. They stormed Hyde Park; it was a full-on hoe-down.
When you see Arcade Fire you want it to be LOUD. A triumphant wall of noise. Unfortunately, the residents living around Hyde Park disagree, so I have one tip to deal with sound problems in Hyde Park, or any large venue: stand on something. If you are a bit shorter than everyone around you, you will find that the vast congregation of bodiesmuffles everything. Human beings are like walking pieces of wall insulation. This is frustrating when you can see Arcade Fire playing their hearts out, and can't access the emotional catharsis because someone else is blocking it with their head.
Thankfully, I found something to stand on, and it was great; I'm tempted to take a Yellow Pages with me to gigs from now on. The band played a pleasing smattering of hits, the best for me being 'Roccoco' (lots of good ooh-ing from the crowd), 'Neighborhood #1 (Tunnels)', which made me a bit teary, 'Haiti', 'Intervention', 'We Used To Wait', 'Keep The Car Running' and 'Sprawl II (Mountains Beyond Mountains)'. Arcade Fire have written so many good songs, and seem to nail a half-disillusioned idealism that's very definitive of music now, agreeing with Fleet Foxes in wanting to escape 'the sprawl' but not being sure if that's possible. They're also slightly in love with the dead shopping malls, the emptiness of the suburbs; their protesting edge is questioning, searching.
Aside from that, they're great fun to watch, hopping between instruments and dancing; I've never seen a glockenspiel played with such gusto, and Régine Chassagne is surely one of the most endearing people ever to grace a stage; when she sang the audience visibly lit up. She finished with 'Sprawl II' just as someone in the crowd let off a magic lantern into the night sky, and it was beautiful.
Words by Becky Varley–Winter