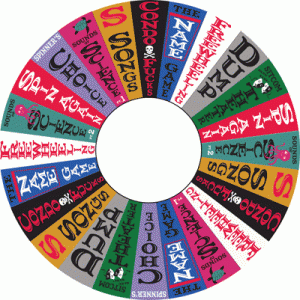 "SPIN THE WHEEL!"
No, we're not in the audience for Wheel of Fortune, but the wheel is the key decision maker onstage with Yo La Tengo tonight.
Needless to say, this tour is unlike any other, and even though the second half of the show sees the band playing a regular set, the first half (there are no support acts on this tour) is filled with an intense 45 min set of covers (in our case) with bassist James McNew on vocals and guitar, including a languid and emotional Prince song.
This is what happened in Oxford, at least, but we could just as easily have been treated to songs starting with a vowel, a sitcom representation, or a Q&A between band and crowd, all of which have been performed in other cities throughout their tour. It's all down to the wheel.
If the concept of a unique tour is to be admired, so is the musicianship of this band. For two and a half hours non-stop, and without filler chit-chats, Ira Kaplan and company showcased the most splendid set of songs; a repertoire ranging from their early days to more recent work, touching on rock, folk, noise, shoegaze, punk, jazz, and anything in-between.
Needless to say, this calls for them to switch instruments and rotate onstage plenty (much like the wheel itself).
The band seems to mold, morph and almost vanish into their own instruments, leaving music at the forefront of it all.  Kaplan's guitar playing is so intense, so perfect and so big that its reverb pulls you into a sound wall like a tsunami wave of noise. It's impossible to look anywhere else.
And if this display leaves us marvellously petrified, Georgia Hubley (insisting on wanting to 'play rock' during the entire set) polishes the edges gently and smoothly when finishing off with folk lullabies feauturing warm love, and sad goodbyes.
Words: Liane Escorza