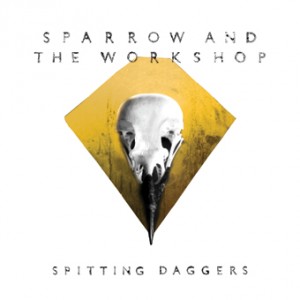 Sparrow & the Workshop might be expected, from their name, to be cute and feathery. In fact they're raucous, all thumping beats, handclaps and caterwauling vocals, like a countrified take on the Yeah Yeah Yeahs; in 'You Don't Trust Anyone', lead vocalist Jill O' Sullivan makes a noise that sounds like a firework ascending. The songs favour anger and betrayal; Spitting Daggers is a fitting description, wielding words like weapons.
'Our Lady Of The Potatoes' (what a title) has a gentle beginning, but quickly escalates into open bitterness, weaving the story of a harsh life ('I can hide your bastard child!'). This is the kind of music to dance angrily to, and if you've never tried angry dancing, I recommend it.
'Faded Glory' has a slow build, soulful and heartfelt, ending with a cacaphony of noise, the command to "look past the sun, into the sky, look at the stars so white". 'Father Look' has a hint of fairground rides, and 'Soft Sound of Your Voice' manages to be both strong and vulnerable, one of the most affecting and atmospheric songs on the album ("stay here now, I haven't finished figuring you out"). The whole of Spitting Daggers in one go can feel a bit relentless, but this is foot-stomping, wild stuff, an antidote to the more mild-mannered, self-effacing moods of folk.
Words: Becky Varley-Winter