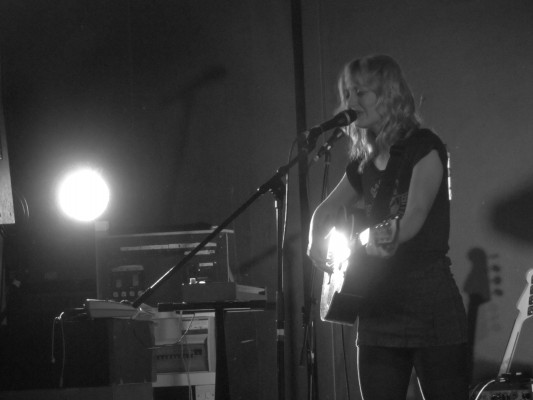 Anais Mitchell leapt into our consciousness with last year's stunning folk-opera Hadestown, a sprawling masterpiece with a lengthy cast of distinguished contributers, not least Bon Iver's Justin Vernon, the Low Anthem's Ben Knox Miller and Ani DiFranco. Lush instrumentation and a mix of jazz, blues, ragtime and gospel helped tell the tale of the Orpheus myth, updated to a post-apocalyptic America.
To say this live show is a different experience would be an understatement. While she has put on full performances of the album in the past, now Anais appears alone with her guitar, her unmistakable voice all that holds over from the sound of the record. But it doesn't really matter, because she only plays a handful of tracks from Hadestown anyway, giving us instead a mix of new tracks, covers and older songs.
However, one thing remains constant – Anais Mitchell is absolutely compelling. The voice has an understated power while her skilled guitar playing more than covers for the absence of any accompaniment. Her performance silences the Brudenell for long stretches, but not entirely, because this is also an interactive show. When she does perform parts of Hadestown, Anais can't do it all alone, so we fill in the gaps on 'Wedding Song' and 'Why We Build The Wall'.
We also help with the set list, as she's taking requests after five songs. The demands, inevitably, are dominated by tracks from Hadestown, and she gives us 'Flowers' and 'Way Down Hadestown' before moving on, because Anais clearly has other things she wants to share. She reveals she is working on an album of traditional folk covers with Jefferson Hamer, and whets our appetite with a beautiful rendition of 'Willie O Winsbury', before two new songs of her own and a cover of 'Humpback Whale'. To cap it all, she brings the house down with Leadbelly's 'Goodnight Irene'.
By the end, Hadestown – the album which won over most of the audience here – has formed barely a third of the playlist, but no one seems much to mind. Albums of that nature are one-offs. Mitchell was here tonight to confirm she can do much else besides.
Photo by Natalie Marchant.