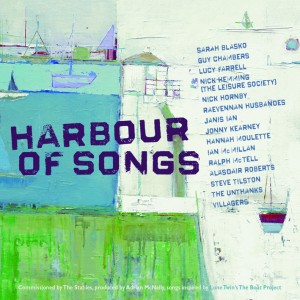 Metal and rock are, of course, both well-established as musical genres. Wood is less so, but the Unthanks' Adrian McNally is out to change that.
As part of the London 2012 Cultural Olympiad, a boat constructed from wood donated by the public was 'sailed' inland to Milton Keynes. Obviously. McNally was commissioned to put together an album to accompany the project, investigating the stories behind some of the wood. Obviously.
Luckily, the results – both the boat and the album – are more impressive than this modern art oddity may immediately suggest. A number of the songs focus on boating specifically, with Steve Tilston's Sail On By summing up the project as a whole. Nick Hemming takes us out to sea under the auspices of the White Fish Authority, while Janis Ian's Tiny Mouse stows away on board a ship for a series of adventures.
Hold 'Bard of Barnsley' Ian McMillan's piece of wood to your ear and you'll hear all kinds of sounds – some of them produced by the Unthank sisters, who also join McNally on Nick Hornby's 'The Ruler' with its bitter memories of schoolroom beatings with the object in question.
Some of the wood is from humble origins – a 'Simple Wooden Box' represented by Sarah Blasko, while Ralph McTell sings his 'Shed Song' – but there is some more exotic timber among it. McMillan's tuneful log evokes a 'Dream Of A Tree In A Spanish Graveyard', while an inordinate amount of wood appears to have come from the world of showbusiness.
Alasdair Roberts, singing in a broad Glasgow accent, could scarcely sound less like "a strolling player from Sydney, Australia" but gamely clambers on to a Rola Bola Board donated to the project, while Hannah Moulette takes us into the magical world of 'Pampelmusse & The Conjuror's Stool' in wonderfully over-the top fashion.
Following a frankly bizarre brief, McNally has fashioned a concept and a group of collaborators to bring a slice of British eccentricity perfectly to life.
Tom White