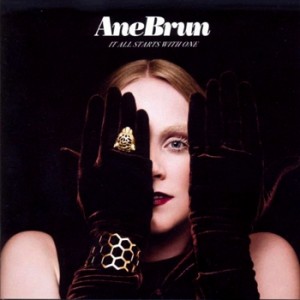 Despite putting out five studio albums, working with the likes of Peter Gabriel and Ron Sexsmith and receiving two Norwegian Grammys, Ane Brun (real name Ane Brunvoll) has flown under the UK radar for some time. This might all be about to change with It All Starts With One, a multi-layered, evocative master-work of heart-wrenching gorgeousness.
The beauty of the album lies in its ambiguity and refusal to categorise life experiences into such banal binaries as 'good ' and 'bad'. This is apparent from the first track, 'These Days', which could be about the maturation of love, or the tragedy of passion gone stale – "You spelled your name in charcoal all over my body/But these days, I just walk with you".
Equally compelling is that this is not a straightforward folk album. On 'Worship', Brun warbles like an American country and blues singer from the 1930s, while 'Do You Remember' is driven by a tribal drum beat and backing chorus. With her rich, unique vocal soaring and echoing over the top, Brun has produced a rather unlikely folk/tribal fusion. Meanwhile, 'One' has all the theatricality of a classic musical number, all ironic strings, dramatic cymbals, cheeky Spanish interlude and a jaunty yet somehow menacing music-hall piano riff.
It All Stars With One achieves the impressive feat of appearing highly complex and incredibly simple at the same time. Brun frequently references the orchestral touches, emotive piano and vocal flourishes of Tori Amos, particularly on 'What's Happening with You and Him', but the most dramatic moments are to be found in the quiet parts, such as in 'Light From One', with its particularly Amos-esque piano refrain coupled with some jazz-by-night muted cymbals.
Given the musical accomplishment of this album and the depth and breadth of Brun's body of work, it really is remarkable that she isn't better known over here. It's about time the UK woke up and worshipped this Norwegian queen.
Words: Theresa Heath