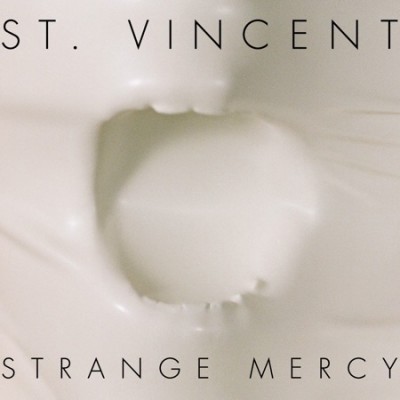 Deviating from the 'a picture of my head' model that has dominated St Vincent's cover art until now, Strange Mercy presents us with a crooked, milky mouth of death that's a much more appropriate indicator of the experience ahead.
Replete with distortion, angrily revving guitars, addictive melodies and exquisite vocals, Annie Clark has produced another relentlessly brilliant, innovative record that possesses the listener, latching on with those creamy teeth and dragging you down, deliciously.
Cheerleaders, medical professionals and biblical characters populate the record, which could just as easily have been delivered through Clark's window by aliens as recorded in a terrestrial studio.  Each track deserves a chapter of explication, but as FFS doesn't produce books yet, we'll have to make do with a little brevity.
The deep, dirty bassline on 'Chloe in the Afternoon', (about a sex worker with a horsehair whip) is thoroughly, filthily moreish, and the closing bars feature what we can only describe as underwater electro purring, which has to be heard to be believed.
Title track 'Strange Mercy' features enough unnerving, dirgeful noises to give even the healthiest person indigestion and lyrics covering regret, revenge and corrupt policemen create an atmosphere of overhwelming melancholy.
'Year of the Tiger' refers to the lost ferocity of youth, ambitions, and lowered expectations.  Uplifting this album is not, but astonishing, overwhelming, and unnervingly brilliant it absolutely is.
Here's Annie being photographed for a swanky magazine and talking about making the album.  What a doll.