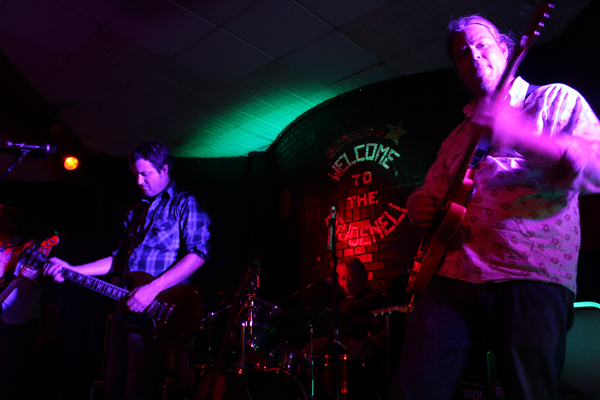 Vlautin, left, performs with Richmond Fontaine in Leeds
"I'm not a huge fan of concept records," says Willy Vlautin, the frontman and songwriter of Richmond Fontaine, who have just released, well, a concept album. The High Country is described as a 'song-novel', set in the remote Oregon logging community Vlautin now calls home.
It is not, Vlautin admits, "something you'd listen to on a Friday night". The album begins with a lengthy spoken word track, setting the tone for a record where you're going to need to concentrate to have any idea what's going on in the love triangle between the different characters.
But 'concept album' is still something of a dirty word, particularly in this age of mp3s and single-track downloads, which is maybe why Vlautin sounds a little bit on the defensive.
"It's a story, a linear story, so I guess it is a concept record," he said. "It makes sense though, unlike a lot of concept records. I love Quadrophenia, it's one of my favourite records, but I didn't like it until I saw the movie because I couldn't figure out what the fuck was going on. Our hope was that this record would be a record you could figure out. If you bought into the girl, if you bought into her situation and fall in love with her maybe, or emphathise with her, then the record will work."
Even so, it will not be a straightforward ride.
"It might not be the smartest move to start a record with four minutes of spoken word, where the first words are, 'I'm fucked, Arlene'," Vlautin adds with a laugh. "Then we did some 'B' movie acting too. I did write some 'radio songs' like 'Timber Tom' and 'My Daddy Was A Logging Man', but in general its a gothic love story, a love triangle."
It comes as no surprise that Richmond Fontaine should do something like this. Vlautin is now an acclaimed author, working on his fourth novel, with the first, The Motel Life, being turned into a film featuring actor and country music Hall of Famer Kris Kristofferson. Vlautin also has an entire spoken word album, A Jockey's Christmas, to his name.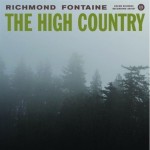 "Since I was a kid, I always liked writing stories," he said. "I'm in love with the novel, that was always my first love before Richmond Fontaine. Some people, like my cousin, they get mad at me when I do spoken word on the records, but I've always liked spoken word as a fan. I did some of it on (We Used To Think The Freeway Sounded Like A River), Post To Wire and Thirteen Cities, so I've always liked it."
It is not just his cousin that Vlautin has to convince.
"When I first brought this record to the band, they thought I was crazy," he said. "But I think in the end it was really fun. They were interested in the idea of making a record that wasn't normal. If you like the record, if you dive in, it's a real world. It's definitely not something you're going to listen to on a Friday night, though. It's a risky record, because there's so much music out right now and people are more orientated to songs rather than records and this is one where it only works as one piece."
With the idea for The High Country so fully formed in Vlautin's head, it could easily have become another novel rather than an album. Only this time, it was a song that came first.
"I wrote The Meeting On The Logging Road first," Vlautin said, inspired by his home in the forests outside of Portland, Oregon, where heavy logging trucks rattle the foundations of his house from morning 'til night. "I wrote that one song and all the others just started spilling out, so I thought it worked better as a record."
The challenge then is to make sure that telling the story does not overshadow the music.
"I always have a hard time with that, I fail at that all the time," he said. "I've always been a story-orientated songwriter. I wrote personal songs but I always mask them in stories. I think The Fitzgerald in many ways is our most similar album to The High Country in that it lives and dies by what it is.
"With that record I decided to write lyrics before the melody regardless of catchiness. It's hard. Sometimes I fail at it, definitely. Sometimes before, the story would be more important to me than the music but I've lightened up a little bit."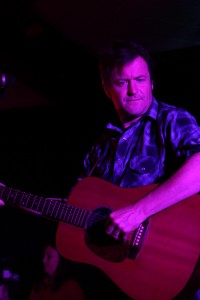 Stories seem to pour out of Vlautin, who has no trouble finding inspiration.
"The world's a fucking wreck," he said. "All you do is look at the newspaper and you see how hard people are living, how mean people are. Any little paper in any little town has got some tragic story in it."
The band are still out on the road touring The High Country, which they play in full. It's pretty much the only way it would make sense to play it, but, speaking before diving inside Leeds' Brudenell Social Club to blast through it, Vlautin admits its a difficult balance.
"You're grateful people show up. Guys spend their money and time to come and see you and you're hoping you don't piss anybody off, so we're doing the record in full and then another set of old songs to make sure people who come to see us are happy. But when you make a record you have to stand by it. It's a fun record to play and you just hope other people like it."
What comes next is likely to be another novel, as Vlautin is "tweaking" his fourth before he starts showing it around. But he already has the next Richmond Fontaine album somewhere in his mind.
"I think we'll do a desert record, something blown-out, psychedelic," he said. "I don't see doing another concept record."