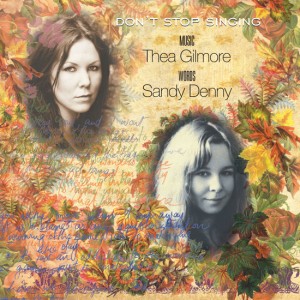 In 2007, while compiling Sandy Denny's unrecorded material for what would become last year's monumental eponymous 19CD box set, the late Fairport Convention singer's estate uncovered several sets of lyrics unused and unscored before her untimely passing in 1978, aged 31. These were then entrusted to lifelong Fairport fan Thea Gilmore, and Don't Stop Singing is the result.
This process lends the beautiful 'Pain In My Heart', in particular, an extra poignancy. "Stage fright and thoughts of you stir up the butterflies", Gilmore sings – a lyric intended by Denny for a lover, but which surely must apply equally to its performer's thoughts of its writer.
Elsewhere, the loneliness that afflicted Denny is catalogued on 'Song #4' ("Will he come, will he ever come, home again to me?") and 'London' ("The hotel is just like yesterday's/ The city has no name… I wish I was in London, that's where I wanna be").
Emotional closing track 'Georgia', in honour of Denny's only daughter, counters the feeling at the time that the increasingly troubled singer cared little for her child – husband Trevor Lucas took the infant, who has never publicly spoken about her mother since, home to Australia out of concern over Denny's substance abuse and erratic behaviour, while fellow songstress Linda Thompson recalled in the Guardian that Denny was "crashing the car and leaving the baby in the pub and all sorts of stuff".
Gilmore's stunning voice represents the perfect medium for Denny's words, and her arrangements bring the best out of them, but it is essentially a selfless performance and it is easy to forget it is not Denny herself on the record. 'Long Time Gone' perhaps best captures the project's ethos with the lyric "If I don't make it before I die, then I just ain't gonna die" – Denny never achieved the mainstream success she craved and her talent deserved (certainly in comparison to, say, fellow Fairporter Richard Thompson) but projects such as this mean she will never truly be lost.
Words: Tom White