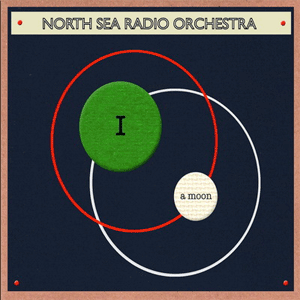 Listening to North Sea Radio Orchestra, FFS is pretty certain that, had the music teacher in charge of our school orchestra encouraged us to practice this sort of thing, instead of jerky, deeply uncool 'big band music', we might be rather good with the old bow by now.
Up until recently, North Sea Radio Orchestra focussed on setting the poetic greats to music (previous unwitting collaborators have included Chaucer and Thomas Hardy).  In I a Moon they cease to lean on dead people and strike out on their own.
Title track 'I a Moon' is a beautifully simple meditation on the existence of the individual, centring on traditional images of womanhood: the moon's rhythms, blood and children.  Its timeless subject matter and imagery settle beautifully against the rhythmic, tinkling patterns of the instrumentation, folding sounds of the past together with an almost eerie sense of the present.
There are a few instrumentals woven into the record, including the remarkably abrupt 'Morpheus Drone', and the slightly brief 'Guitar Miniature #3', both of which remind the listener, gently but firmly, that the instrumentation is the beating heart of this album.
'Heavy Weather' is a sea shanty taken out of time.  If an expert in the paranormal confirmed it had been sung by ghosts, we'd not be surprised.  For eight minutes, the listener sets sail on the good ship NSRO, is buffeted by waves of sound, and offered bursts of respite and brief lyrical refrains.  The trip to shore is a slow, gentle meander through electronic sound.
For a folk fan whose bias is firmly in the favour of lyrics (rather than tunes) this album was a minor revelation.  In every sense, its musical range is attention-grabbing and thoroughly emotive.  When lyrics move in, they're brief accompaniments, never the main event.  Why shouldn't the clarinet take centre stage from time to time?
I a Moon is out now.
Watch the video for 'Berliner Luft', if you think this sounds nice.