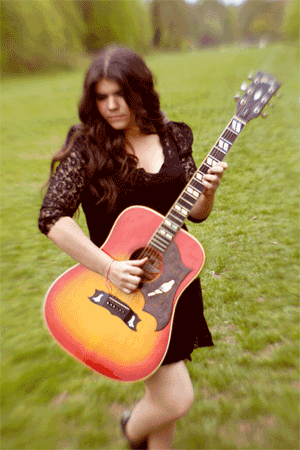 If The Magic Numbers are a little too 'shiny happy people' for you, bassist Michele Stodart's solo foray into country and blues territory is a far grittier prospect. We may be at the underpopulated, family-orientated Apple Cart festival (littler, more polite sister of previous day's hipster festival, Field Day) but we could've stopped off at some spit and sawdust bar just off Route 66 as Stodart's new project is pure Americana.
Brandishing a steel-stringed guitar and supported by a highly competent backing band (including the world's best looking drummer) Stodart serves up blues staples of love, loss and recalcitrant lovers, with a decent helping of heartache and pain.
In rich, chocolatey tones tempered by a hint of gravel, she admonishes one goodfurnuthin ratbag "Don't you leave me in the blues", while 'Take Your Loving Back'  (the first single from the new album, Wide Eyed Crossing) is a gorgeous wash of cymbals, broken chords and understated twangy riffs. On 'Foolish Love' the upbeat tempo and walking bass line is offset by the bitterness of the lyrics "I hope you feel the same way soon", betraying an edge and spikiness that's been too long concealed.
Stodart is a compelling frontwoman with her trademark, waist-length black hair and all-American singing style. At this point she's not reinventing the wheel, but clearly has a more mournful, cynical and darker side to her that is crying out to be indulged away from the often exhaustive optimism of TMN (who somehow manage to sound happy even when they're singing about being sad).
It's a measure of how new this solo project is that the number of 'friends' on her MySpace page has yet to reach double figures and, apart from a Facebook page, there's not even an official website yet. However, if the material we heard today is anything to go by, Stodart has plenty more grit, anguish and fire to sustain her for a while, during which time she might have the courage to venture even deeper into the abyss.
In the meantime we're off to slug some bourbon, saddle the horses, and continue along our dang lonely way.
Theresa Heath