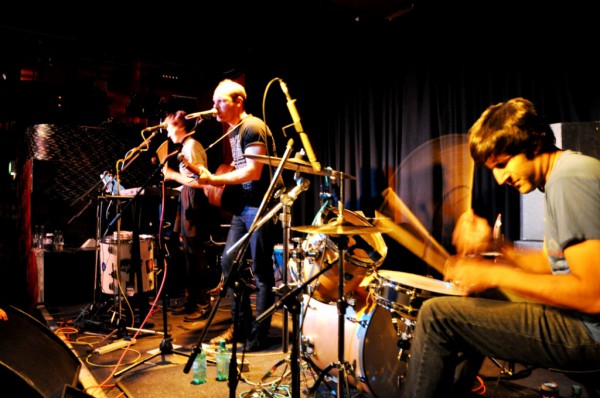 The RAA play with one foot in their hometown with songs rooted in a place far from the Islington pub in which they performed on  Tuesday. Their music is as much about love, longing for a place, and the feeling of belonging as for the people dear to their hearts.
A strong following for the band has been gaining force ever since the release of their debut album Hometowns in 2009 and the sell-out crowd tonight was made up of devotees who cheered their allegiance at every turn.  Their many standout tracks are propelling the band towards becoming a sleeper hit.
'Don't Haunt this place' is a catchy lament sung in a style reminiscent of a revved up Belle and Sebastian.  Nils Edenloff begs with a longing for someone he needs, but from whom he also needs space in order to exorcise the ghosts of a relationship past.
The crowd were kept happy with an imaginative folksy reworking of the Rocky classic 'Eye of the Tiger' before the focus turned to an impassioned plea to save and be saved in return in 'Drain the Blood'. It is, however, 'Frank AB' that sits at the heart of the Hometowns tour.  A song about the mining town's devastating landslide of 1903, this track is steeped in remorse, acknowledging the futility of attempting to extend the brief act of living and loving, holding on to what is already lost.
Edenloff's guitar and vocals are delivered with everything he can muster; mixing heart and soul into a style that would sound nasal were he not to have a tone akin to a smooth Southern drawl mixed with Canadian maple syrup.
Paul Banwatt drums with a Grohlesque vigour, but much of the complexity comes from Amy Cole.   On occasion she complements Edenloff's vocals, at other times she floats around the stage between keyboard, percussion and xylophone.
The goodnight lullaby acoustic number, a new track still being experimented with, was a fine way to draw the performance to a close and was played from within the crowd. The sense of community extending from their Canadian home to North London meant no-one left disappointed.
Words and pictures: Chris Gent