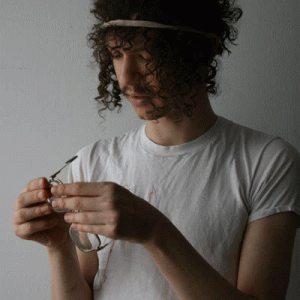 "What's your name and where do you come from?" is an elementary question extended upon a maiden encounter. It also seems like a solid foundation for unpicking tonight's protagonists. "Darwin Deez" you say? Right, well that rolls off the tongue rather nicely. And you're NYC based? Oh dear. Good luck. Indeed, it seems that when a hot young East Coaster leaps across the pond, the expectations levelled at their door are potentially debilitating. Strap on a guitar, strum it in anything resembling a jaunty fashion, and expect severe benchmarking against the Strokes/Vampire Weekend lineage. It's a track littered with the fallen but one which the Darwinians appear to be negotiating with much aplomb. They've bagged a coveted slot on the NME Radar tour, made it intact to the zenith of this run at London's KOKO, and pulled in a suitably glitterati-flecked throng of young pretenders. So far, so good.
First up though it's Californian synth-pop bopper Active Child flitting between a miniature harp and a keyboard and backed by an effects-drenched cacophony of wacky samples. This melange is not in itself unpleasant, it's just unfortunate that the falsetto-heavy vocals with which it is lathered are more courageous than captivating.
As Darwin enters alongside an eponymous bass-drums-guitar ensemble, his striking trinity of ringlet-afro, pencil moustache and bejewelled hairband are suddenly bathed in harsh red light. It's an outlandish look for sure; one that's not without its charm, and a suitable harbinger of oddity. Donning of instruments is shirked in favour of a headfirst plunge into a Wham video, as the foursome stage a lengthy choreographed routine replete with press-ups, funky knee-bends and grins aplenty. It's an energetic opening, drawing a collective reaction that is equal parts befuddled and enchanted.
Tomfoolery over, we are treated to a double-header of 'Up in the Clouds' and debut single 'Constellations'. The latter is a tangle of clean and chiming guitar work atop sparkly percussion, all neatly crowned with warm Hammond Jr.-esque vocal delivery, but it's not until the chorus of track 3 'Bedspace' that anything really melodically impressive leaps forth. A further performing arts interlude ensues and this sets the standard for the remainder of the set; tunes are dispatched in braces that then spawn dance-offs, Beyonce mash-ups and numerous legs akimbo. 'Bad Day' is a standout moment, a whimsical tale of impressing misfortune upon an adversary that floats along merrily at the out-and-out pop end of the spectrum, and set closer 'Radar Detector' is a wondrously infectious beacon for all things Deezy.
Reviews of the recently-released debut album make for decidedly mixed reading. The collective are lampooned for patchiness in writing quality, submission to the guitar-jangle stereotype and the inane repetitiveness of DIY drum machine-guitar-vocal layering. That said, other quarters lavishly salute the skittish lyrical tone and the accessibility of such uncluttered construction. These divisive elements are, at once, manifest in tonight's showcase. It's an up and down affair, but when the simplicity shimmers it truly is charming stuff. The music isn't groundbreaking and neither does it mean to be. The crazy dancing does initially smack of style over substance, but – whilst highly prescribed – it is certainly consistent with the identity of the songs and their author.
The approach is unashamed and Darwin pulls no punches. The interactive and visual dimension delivered also becomes functionally central to the steering of the set; it holds greater appeal than fumbled tuning breaks, and such is the rapturous reception in Darwin's vicinity that he can heave and pitch as he pleases with utter impunity. Everyone's a winner. It might not age particularly well, but as DD strides toward the merchandising stand betwixt hordes of female admirers, I wouldn't have thought he's all that bothered.
Words: Robert Lane