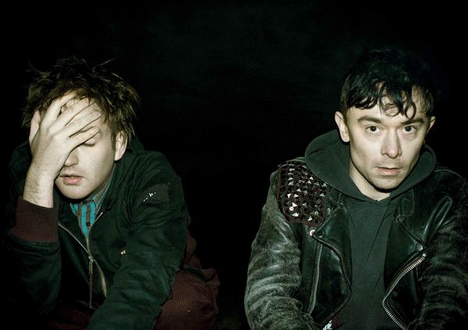 With her hooded cloak, long hair and slow rocking back and forth, Rachel from Ebsen and the Witch does a good job of living up to the band name. During their set, the bass drum takes centre stage and at one point, all three band members gather round as if performing some ancient ritual around the cauldron. Rachel stops short of uttering a banshee wail. Just. And with little more than a quiet 'thanks' to the audience, they're off.
It's a bit of a contrast when The Big Pink come on stage a bit later to the strains of Cypress Hill's 'I want to get high, so high' but bizarrely, the steady, chilled out beats feed nicely into 'Too Young to Love', followed by the upbeat 'At War with the Sun'.
Their debut album A Brief History of Love with its hazy, bittersweet songs of love and longing cemented The Big Pink's reputation as the forerunners of electro-shoegaze on this side of the Atlantic. Winning the NME award for best new act last year catapulted them to indie stardom, but it's not just the teenage indie kids who are here tonight. The band's blend of Jesus and Mary Chain style distortion, combined with anthemic hooks and electro-beats, attracts a diverse crowd of 20 and 30-somethings who remember shoegaze at its peak, but also lived through 90s dance and want a bit of a beat with their brooding.
At times, the throbbing bass and sheer force of the sound makes for an almost physical experience – you can feel the reverb pulsating through the floor, especially during hit songs 'Velvet' and 'Tonight' – but the Big Pink have too much sass to get too My Bloody Valentine on us, and there is just as much dancing going on as there is moshing. Drummer Akiko Matsuura, dressed in not much more than an oversized ruffled collar, was on top form and more than held her own over the beats and electro effects from Milo Cordell's keys and machines.
The pace is taken down a notch for 'Count Backwards from Ten', and the refrain "better off dead" takes on an almost meditative dark, sensual quality. The more rock-inclined members of the audience nodded their heads purposefully in appreciation and Robbie Furz and the bassist had a bit of a jam, slowing grinding with their instruments.
At one point, Furz talked about what an honour it was to play at the HMV forum, Kentish Town, where he'd seen some of his favourite bands, but this was the only real attempt to warm up the crowd. They have been touring for a while now, and at times it seemed like this set had been played exactly the same way more than a couple of times before.
But everything picked up again right at the end for 'Dominos', in all its uplifting abandon. Surprisingly, there were no calls for an encore, perhaps because there was no hint that we'd get one. Then again, they are still a relatively new band, and with all the hits ticked off the list, this diverse audience, united only in their love of the music, was contented with their lot.
Words: Meabh Ritchie