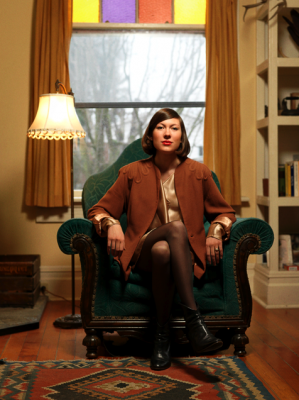 It's all go on the albums-to-look-forward-to front today, as Rough Trade announces the release of Alela Diane's 3rd album, intruguingly named 'Alela Diane & Wild Divine', on 4th April.
Alela wrote the album on the road in 2009 and finished it in 2010 with her husband and guitarist Tom Bevitori. She recorded it with REM and Nirvana producer Scott Lim – his first producing work in seven years.
The tracklisting sounds a bit Bob Dylan-y a bit Leonard Cohen-y and a bit Dolly Parton-y.
1. To begin
2. Elijah
3. Long Way Down
4. Suzanne
5. The Wind
6. Of Many Colors
7. Desire
8. Heartless Highway
9. White Horse
10. Rising Greatness
Alela Diane & The Wild Devine will play three UK dates in May in London (Scala, 12 May), Manchester (Band on the Wall, 13 May) and Brighton (Pavillion Theatre 14 May).