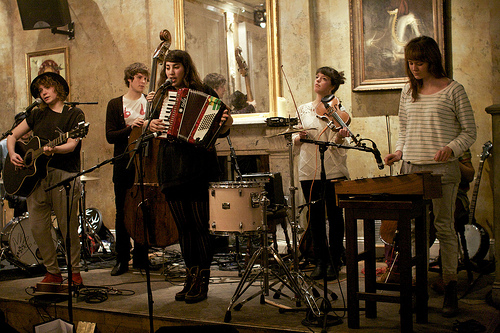 The ever lovable folk trio Peggy Sue have returned from a European tour supporting Archie Bronson Outfit and without even pausing for breath, have announced both a headline tour of  the UK and will also be off to the USA again in June.
And that's not all. On the 5 July Peggy Sue release their next single, 'Yo Mama' complete with a cover of the famous Clash song 'Guns of Brixton', first heard at the Barbican in London back in March. The single, featuring artwork by Ben Phillips, will be available for digital download from Wichita Recordings, iTunes and all good download stores.
And as if that still wasn't enough, the band will also be making available their rare and much sought after Missy Elliot cover 'All My Grillz' later this year too.
It seems there has never been a better time to be a Peggy Sue fan!
UK TOUR
14th May | Brighton – The Great Escape (tickets)
15th May | The Hague, Holland – Walk The Line Festival (tickets
17th May | Birmingham – Yardbird Jazz Cafe FREE
19th May | Exeter – Cavern Club (tickets 01392 495 370)
21st May | Wood Festival – Braziers Park, Oxfordshire (tickets)
23rd May | York – Stereo (tickets)
24th May | Sheffield – Forum FREE
25th May | Norwich – Arts Centre (tickets)
26th May | Barcelona – Sala Apollo – Wichita Party
28th May | Cardiff – Buffalo Bar (tickets)
29th May | Bristol – Dot to Dot Festival (tickets)
30th May | Nottingham – Dot to Dot Festival (tickets)
31st May | Manchester – Dot to Dot Festival (tickets)
2nd June | Edinburgh – Sneaky Petes (tickets)
3rd June | Glasgow – Stereo (tickets)
4th June | Leeds – Brudenell Social Club (tickets)
Words: Joe Collins
Visit Peggy Sue's MySpace for US dates and more information