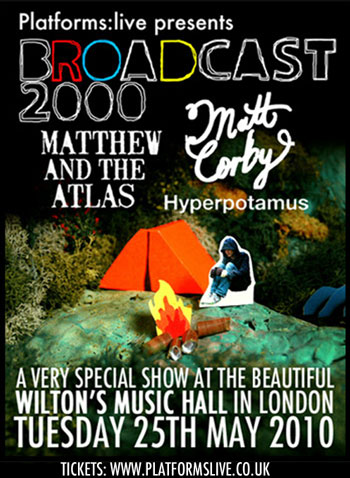 Broadcast 2000 have announced plans for a very special gig at Wilton's Music Hall in East London.
The venue, which is over 150 years old and described by its operators as "old and crumbling", is set to provide a unique backdrop as Broadcast 2000 celebrate their homecoming from a tour of Germany on May 25th.
"Wilton's is the world's oldest and last surviving grand music hall, and we feel very privileged to have been given the go ahead for this very special event!" said Broadcast 2000s songwriter and frontman Joe Steer.
Broadcast 2000 will have a full band and string section to show off their debut album in all its glory.
They have also announced several support acts for the show. Spain's Jorge Ramirez-Escudero — also known as Hyperpotamus — who uses four microphones for just the voice in a unique live act, will open things up. Matthew & The Atlas, who are promoting their 'To The North' EP, will follow, ahead of Matt Corby, a former contestant on Australia's version of Pop Idol, who recently featured on the Communion compilation of rising folk artists.
Tickets for the show are available through Platforms Live.
Broadcast 2000 also did a nifty little session with Marc Riley for BBC 6Music yesterday. It can still be heard on iplayer here, specifically at 0:00.15 – Get Up And Go, 0:47.30 – Rouse Your Bones and 1:15.00 – All Is Said And Done.
Links:
Broadcast 2000 MySpace
Matt Corby MySpace
Matthew and the Atlas MySpace
Jorge Ramirez-Escudero MySpace
Wiltons Music Hall website
Additional reporting by Angeline Liles.