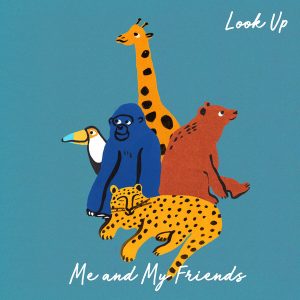 Combining Ghanaian highlife, Jamaican roots and Afro Brazilian folk music, Me and My Friends' musically heady hybrid creates an instantly recognisable sound defying easy categorisation. The West African finger-picking of Nick Rasie, along with stunning harmonies, highly evocative cello and clarinet, deeply infectious grooves and sun drenched music, create euphoria for the brain and the bootie on Look Up.
Equally important to the sound are the mix of Emma Coleman's cello and Sam Murray's clarinet. Together, they generate a unique, vibrant sound pallet. Rounding out the quintet are drummer Fred Harper and bassist James Grunwell.
Behind the sun-drenched grooves are biting lyrical twists one doesn't always expect. Covering John Lee Hooker's 'Sometime', instead of the blues, there is a vaguely tropical feel. Lyrically though, the song is dark, "Darling, you know I love you, I just can't see why we can't get along sometime."
The combination of guitar and cello bubbles along, yet 'All of This I Know' relates, "Life is not always so kind and you may sever your own ties. If you suffer but never learn old mistakes will return." The bouncy Caribbean beats of 'Another Lifetime' masks the reality of a friend whose unexpected death ended up with much left unsaid.
Bouncy yet bleak, Me and My Friends' Look Up delivers something completely unexpected. These songs may be hidden under a bright veneer, yet the messages are hard to miss if you listen intently. What becomes abundantly clear is how much is how much is at stake in these songs. The songs' Caribbean and West African influences are especially unique in a band out of Bristol.
The unique musical hybrid Me and My Friends create offers a sensual approach to music that demands to be heard. Ignore at your peril.