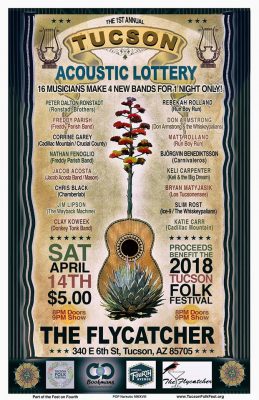 Some of the most notable contributions to contemporary music come from instances of unexpected collaboration. This much has surely been true longer than history could ever hope to record. Although, some contemporary examples might just include David Bowie and Bing Crosby crooning for peace on Earth, or The Accidentals' serendipitous meeting with rapper Rick Chyme leading to a high-octane version of 'Parking Lot'. Perhaps this thought was one of many at the center of one's mind when they hatched the idea for a First Annual Acoustic Lottery hosted by the Tucson Kitchen Musicians Association (TKMA), whose 33rd Annual Folk Festival will be taking over downtown Tucson on May 5 and 6.
Held at historic 4th Avenue treasure The Flycatcher, TKMA's Acoustic Lottery hosted four bands that were composed on-the-spot by 16 of Tucson's staple singer-songwriters. At the end of four hours of music from the bands, audience members would have the opportunity to head up to the TKMA booth at the back of the venue in order to turn in their vote. In the meantime, the 16 artists had the opportunity to woo the crowd over with their sets. Each band was required to carry at least one original song in their set, as well as a Pokey LaFarge tune—the celebrated folkster will be this Folk Festival's national headliner.
The Flycatcher itself is a Tucson staple of deep personal value to many of its citizens. Walking in, it's easy to see why that is. With a horseshoe bar at its center, the venue is as fine a purveyor of drinks as they are music. It's no dive, either, despite carrying a hefty dosage of downtown flair. Rather, it speaks to the heart of Tucson and is a real contributor to what helps it keep on beating. There was no better place to host the Acoustic Lottery than here. Though some would be quick to invite new housing developments onto the historic avenue, there's no getting around that 4th is all the better with its Flycatcher present.
With performers as consummate as the ones on stage that night, it's hard to say that any act was "better" than the other. Although, the name of the game was to vote for a favorite at evening's end, and this humble writer did take part in the ritual—and is just as humbly rescinding revealing to his readers which band he did ultimately vote for. What can be said though is that each band brought it, showcasing just how talented the individuals taking the Flycatcher stage that evening are. They came together as makeshift bands in such a short amount of time, but each learned a handful of songs to perform with passion and expertise to their audience.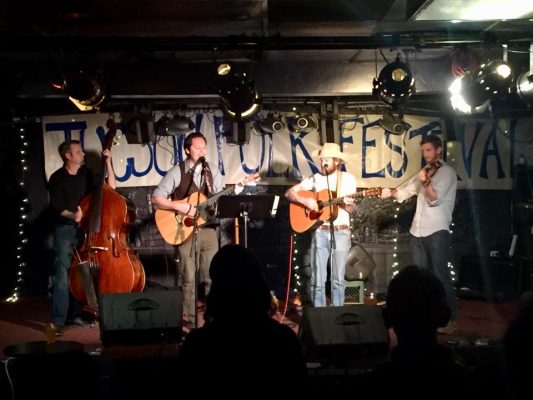 Highlights of the evening include, but are certainly not limited to, the vocal performances of the "Big Money" band's Jacob Acosta and Freddy Parish. Like the Tucson Folk Festival itself, this was Acosta's first lottery, but it sure didn't feel like it as he worked the stage like a true, rocking frontman. Parish brings a different sort of soul to the stage, definitively old-time in his captivating delivery. They were paired with fiddler Matt Rolland and bassist Chris Black to round out their sound. Similarly, fellow pros Rudy Cortese, Slim Rost, Björgvin Benediktsson, Bryan Matyjasik, and Nathan Fenoglio leant themselves to the stage in brilliant fashion. At their best, they swung with a western flair reminiscent of LaFarge's, getting much of the audience clapping and dancing along with their tunes.
Don Armstrong took the stage with Sabra Faulk, Jim Lipson, and Rebekah Rolland. The foursome gave us the LaFarge cover I personally loved the most with a spirited, swaying take on his 'Cairo, IL'. Lipson's ability to take on a cajon, tambourine, and harmonica all at once was not lost on the audience, either, arguably being a fan favorite performer that evening. Sabra and Rebekah brought it, too, as they always do—the former a silky smooth interpreter of song, and the latter's vocals pristinely resonant. Together, their three-part harmonies were nothing short of beautiful.
This wouldn't be the last we would see of our beloved Armstrong, either, as he would later take the stage with Peter Dalton Ronstadt, Corrine Garey, Keli Carpenter, and Clay Koweek to share vocals on Ronstadt's iconic Tucson tune, 'Bowl of Dust'. This was an undoubtable highlight, alongside Petie, Corrine, Keli, and Clay's take on "Don't Think Twice, It's Alright', which featured shared vocals from all four artists and really felt like a folk circle singalong. Keli, too, is absolutely indelible and brought inherently soulful, jazzy goodness to the stage whenever she hit the mic.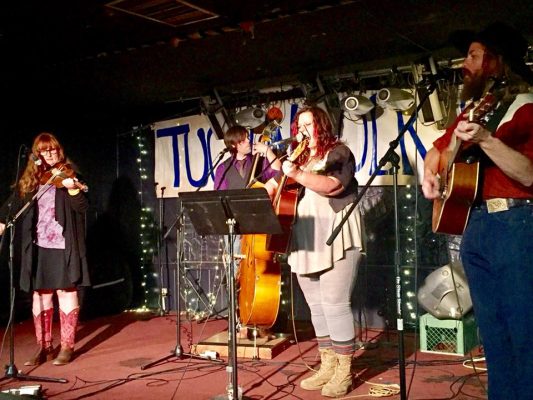 It's hard to say who our winner will be, but at the end of the day, what matters is the heart that these artists brought to the Flycatcher stage that evening. Every last one of them made their mark, making for a show that is truly unforgettable. I myself am still positively buzzing with spare energy from the evening, enthused by the music that brought so many of us together for such an awesome show.
Special shoutouts, too, go out to Cory, the Flycatcher sound guy. Against all odds, he served us incredibly well the absolute swarm of acoustic instruments that were thrown his way between sets. Bookman's and 4th Ave also deserve special thanks for sponsoring the event—without them, we would've never had a night so sweet. The First Annual Acoustic Lottery that will go down in Folk Festival history as a rousing success, and an event that I'm very much hoping we'll see replicated for many years to come.