Old Crow Medicine Show celebrate 20 years together in 2018 and mark the occasion with Volunteer, an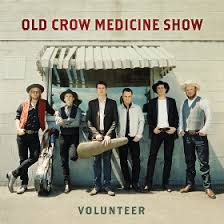 album recorded in the historic RCA Studio A in Nashville by Jason Isbell producer Dave Cobb. It's fair to say that they've faced their fair share of ups and downs over the intervening years but Volunteer finds them in as good as voice as they were on their first two breakout albums, O.C.M.S. and Big Iron World. They have survived rehab and breakups and covered thousands of miles playing their own brand of, in their own words, "stolen melody songs" and it feels like it all comes together on this album.
This album takes us on a tour of the southern states, proclaiming that the "muddy water" of the Mississippi will carry them home on foot-tapping humdinger 'Child of the Mississippi'. Also, if you're used to hearing them in their more traditional acoustic sound, prepare to open your ears for a more rockin' sound. This is deliberate to use the most of the the larger space of Studio A. In-between their homages to the south, you'll find them touching upon politics in 'A World Away', a self-proclaimed "upbeat homage to refugees". "Standing at the gates/with my suitcase/but I'm still a world away".
The closing track 'Whirlwind' is clearly an album highlight, and probably a career one also. "Later on outside your fence/we shared a little dance", vocalist Kevin Secor sings over lilting mandolins and violins. A song dedicated to the grandparents of one of his friends, celebrating love during a time of massive social upheaval, especially in the south. It's fair to say that they've come a long way since busking outside the Boone Dog pharmacy and being discovered by Doc Watson's daughter. Here's to the next two decades, boys.