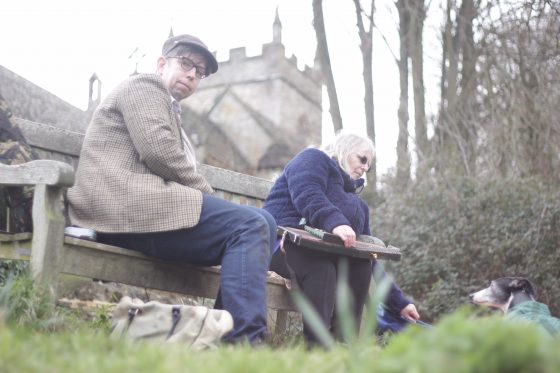 One of, if not the, most beautiful folk projects of last year was volume one of Darren Hayman's Thankful Villages – a journey around the UK's 54 villages where all of their First World War soldiers returned from battle alive. Hayman will release part two in May, and we're delighted to bring you the premiere of 'Upper Slaughter' – about the village of the same name in the Cotswolds. Hayman invited Judy Dyble, the original singer from Fairport Convention, to join him when he visited and she provides the vocals, singing a lyric about generations flowing like water through the village.
"Judy Dyble agreed to go with me to Upper Slaughter, not far from where she lived," Hayman said. "We took Molly, her greyhound, with us. Judy understood the project immediately. We had only been in the village five minutes before Judy had started talking to a stranger and got us invited to the village soup afternoon. We ate delicious soup underneath group pictures of the village. Talk was of the plight of the village. Upper Slaughter has an older population and a high proportion of holiday homes. We left a donation and sat by the River Eye. I recorded Judy strumming chords on her auto-harp and drew a picture of Betty."
Hayman added that we can expect to hear plenty more about rivers when the full album is released via, appropriately, Rivertones on May 26. "If the accidental theme of Thankful Villages Vol 1 was the church then the theme of Volume 2 has been the river," he said. "The river has slowly woven its way through the songs and it snaked its way into Judy's beautiful lyrics too."
Volume 2 digs deeper than the first collection as Hayman explores British rural life and discovers some extraordinary tales, from a drowning on bonfire night in Arkholme, Second World War air disasters in Woodend and Wrigsley, and the story of two survivors from a factory explosion in Flixborough. There are also lighter touches with stories of wild swimming and village fetes.
You can pre-order Volume 2 here. Hayman will mark its release with a live performance at The Horse Hospital on May 26 – you can find details here – and is already at work on Volume 3, which has received funding from the Arts Council.