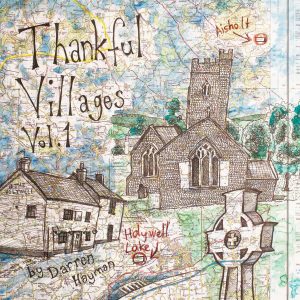 How fitting to get acquainted with Darren Hayman's new multimedia documentary project and album 'Thankful Villages Volume 1' on a day set aside in the USA as a memorial to soldiers.The project's central theme of a musical, visual and narrative celebration of the 54 villages in the UK, where all of their WWI soldiers returned alive, has a multinational appeal. Ultimately, 'Thankful Villages' is the kind of album which takes the idea of "mindful music" to a new height, be it Memorial Day, or not. The 18 tracks variously take the form of instrumentals inspired at locations, interviews with village residents set to music, new songs with lyrics, or found local traditional songs.
London-based Darren Hayman isn't one who likes the long wait until release dates – June 2 for 'Thankful Villages' – so he has been dropping video "chapters" since August 2015 from volume 1 of his intended three part release. While viewing videos #1 through #10, I was stunned by how well Hayman has woven together the seemingly disparate skills of still and video photographer, oral history interviewer, musician, artist and cultural historian. While there are many persons engaged worldwide in preserving rural heritage through just one or a few of these practices, I'm unable to think of a single individual, besides Hayman, skilled in them all. Hayman argues otherwise in his Thankful Village blog postings. For example, Hayman writes about Track 4, 'Puttenham in Hertfordshire':
"Christine [the church warden] lets me in. I tease notes out of the organ. I wonder for how far it can be heard. A walker comes in, 'I heard someone play, can you play?' No, I said."
Modesty aside, this project is a ultimately stunning model of combining musical and visual artistry with compelling ethnographic interpretation. 'Thankful Villages' brought me back to memories of US author/photographer William Least Heat Moon's 'Blue Highways,' a road novel in the tradition of John Steinbeck's 'Travels With Charlie' and Jack Kerouac's 'On The Road.' Hayman has managed to ellipse what have been my gold standards for cleverness in combining travelog writing with photography. Our very best teachers encouraged us to utilize all our skill sets in developing our art. Hayman's 'Thankful Villages Volume 1' has succeeded in showing us how it is done, and simultaneously made the impossible seem simple.
'Thankful Villages Volume 1' is available on CD or vinyl at: http://hefnet.com/thankful-villages-volume-1- by-darren- hayman/
Hayman is currently on tour, with schedule dates and tickets available at: http://www.songkick.com/artists/380793-darren- hayman
Words by: Gary Reese