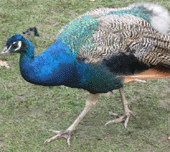 The super-duper folks who run End of the Road have added some more stunners to their already rather exciting 2010 line-up.  Joining Wilco, Diane Cluck, The Mountain Goats, AA Bondy, The Low Anthem and The Wilderness of Manitoba are Iron & Wine, The New Pornographers, Phosphorescent, Emily Loizeau, Cymbals Eat Guitars, The Fresh & Onlys and Citay (click bandnames for MySpace links).
End of the Road takes place every summer at Larmer Tree Gardens, Dorset, home to many a sparkly light and wandering peacock.  Among this festival's good points are: it shuns advertising (down with Capitalism!  Yeah!), it's small (5,000 people) and they don't have anything shoddy: no shoddy music, no shoddy food, no shoddy merch sellers.  It's all carefully chosen, lovingly curated and beautifully presented.  Tickets here.
End of the Road also have a London gig lined up at the Union Chapel on 1st June.  The Unthanks will appear along with a crowd of yet-to-be-named special guests.  They've been nominated for a Mercury and described by the Guardian as "haunting, original and magnificent", so these ladies are well-deserving of some serious attention.  Tickets here.
Words: Helen True