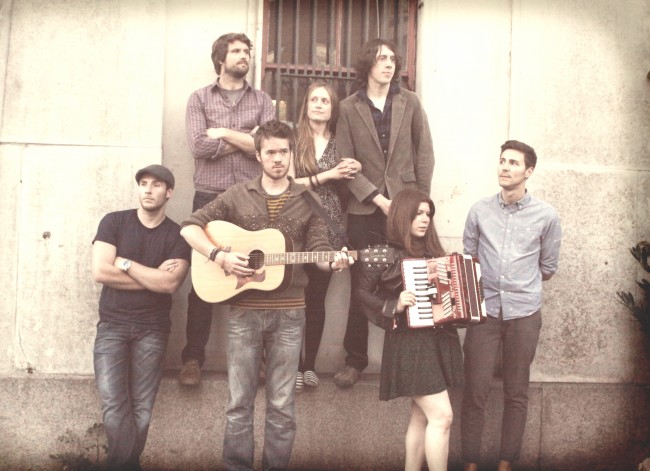 Hello…if you're new to this blog then welcome, I'm Angie from Patch & The Giant. We host a monthly gig – The Sunday Fete at The Boogaloo – in Highgate, north London where we have been band in residence since the start of 2012… each month we invite 5-6 other acts to come and play throughout the day whilst we collectively nurse our hangovers to the tune of, well, great tunes. We've been doing this for nearly two years and have discovered some truly spectacular musicians in the process, so the lovely people at FFS have asked us to share with you our finds.
(Oh and this is us):

After acute post-summer and festival season blues, I'm finally starting to remember all the things which are inherently good and glorious about winter; this week we recorded our Christmas song (ahem…#forfolksakechristmasalbum) and have as a consequence munched our through at least 2 boxes of mince pies and glugged well in excess of two bottles of mulled wine.
The October Sunday Fete came on the eve of the wind they are now calling the St Jude's Storm (St Jude being the patron saint of 'desperate cases' if you didn't already know that…you mean you didn't??). Once again I scotched up some eggs…and they were good…but this time the culinary prize definitely goes to Sam (Fitz) Fitzpatrick's girlfriend, whose name I know not because she wasn't even there but sent young Sam along with the finest and most gargantuan red velvet cake. Dear Sam's girlfriend…if you're reading this, we love you.
Our next event is on November 24th and will be the last proper Sunday Fete of 2013 (though something exciting might just be happening on 15th December) before we return again in January. We aim to close the year in style and have a dazzling line-up ready and raring. For those of you kids using Spotify you can feast your ears in advance on our aptly named playlist: Patch & The Giant's Sunday Fete November 2013
Joining us on 24th November:
The Lost Cavalry
We welcome back The Lost Cavalry exactly one year after they first played at The Sunday Fete. Our label-mates TLC (not to be confused with the other TLC obviously) are a London based 6-piece, who perfectly marry together delicate and original folk melodies with powerful crescendos and strikingly catchy choruses, on top of which sits the distinctive combination of concertina, ukulele, flute and cello. They released their debut album Three Cheers For The Undertaker in September this year on Folkroom Records and it's met so far with much deserved critical acclaim: 'This is indie folk at its finest… Uplifting, joyous and rather wonderful' (Shout 4 Music #1 Download of the Week). Though not so much their signature sound, my favourite song from the album is Only Forward.
At their album launch TLC assembled their very own male voice choir, including all Patch's men folk (see below – if you look very carefully you might see that Luke is wearing a Care Bears t-shirt) to join them on this song and it was utterly spine tingling. I also can't go without mentioning the The Flood (from their 2011 EP Snow City Radio). It's uplifting, brilliantly anthemic and we had to fess up to the lads after playing this song on repeat in our little tour bus all the way back from Somerset one sweaty Sunday this summer (we did only have one CD with us).
Green Diesel
Also making a return to the Sunday Fete, Green Diesel are a group of musicians from Kent. Instantly evident in their sound is the influence of the veritable folk -rock giants of my parents' generation, Steeleye Span, Fairport Convention et al….which is precisely why I like them; they remind me fondly of sifting through my father's vinyl collection, stealing vintage cardigans from my mother and wishing I could have been born 30 years earlier. Green Diesel's full and rich sound is drawn from a wide range of influences, funk and klezmer along with traditional tunes and of a course the odd murder ballad. Gracing the festival circuit this summer with appearances including Lounge on the Farm and Broadstairs Folk Week, they released their debut album Now Is The Time in 2012. 'A sound that is fresh and highly engaging. This is an excellent debut album from a band who are very easy to like' (Bright Young Folk). I've been particularly enjoying one of the instrumental numbers on the album, Roy's Presbyterian Catharsis:
Dan Korn & The Choppy Waters
I've known Dan's name for a while and am very happy to have finally made his acquaintance and got him to come and play with us. He weaves enchanting, country-twinged melodies around exquisitely crafted lyrics and songs which are 'laden with farewells'. This video of his song Into The Warm with his band The Choppy Waters is just super (Into The Warm also being the name of the great unplugged night Dan runs at folk den The Harrison near King's Cross):
Andrew Butler
Andrew Butler heroically stepped in at the last Sunday Fete when Hometown Show were forced to pull out due to illness. For this, I gave him a free scotch egg… but now he deservedly has his own billing. Another fellow of the Folkroom collective, Butler is, in the words of Risk & Consequence: 'the spirit of Roy Orbison. His voice is wizened, not jilted; his lyrics and music are learned, the product of life lived' or as put by this very website 'one very talented man'. Floating above sophisticated and finger-picked guitar, his lyrics are laid bare and poured from the heart but stylishly avoid the trap of self-indulgence. Following a small hiatus from the gig circuit, Mr Butler is now back and with some fascinating new material in tow, I'm loving Empire of Love most right now…wistful, dreamy yet full of gravity and might.
Stephen Hallam
Stephen Hallam is our favourite promoter, beer buddy, sound-man, tour-bus driver, stand-in drummer and all round partner in crime. Formerly the frontman of the band Long Dead Kings (sadly now long dead), he's decided to embark on a bit of a solo project so we are only too happy to give him a spotlight at The Sunday Fete. Because Mr Hallam's solo career is so, so fresh I can't share with you any of his tunes online because he hasn't recorded any. So instead I shall leave you with this video of the erstwhile Long Dead Kings' Ode To The Oligarchs:
It's probably also an appropriate time to plug his night Before The Gold Rush which you can find out a lot more about at beforethegoldrush.co.uk.
The Sunday Fete at The Boogaloo
24th November
Doors at 3pm, £3 entry.
For all enquiries please contact [email protected]
More info: patchandthegiant.com