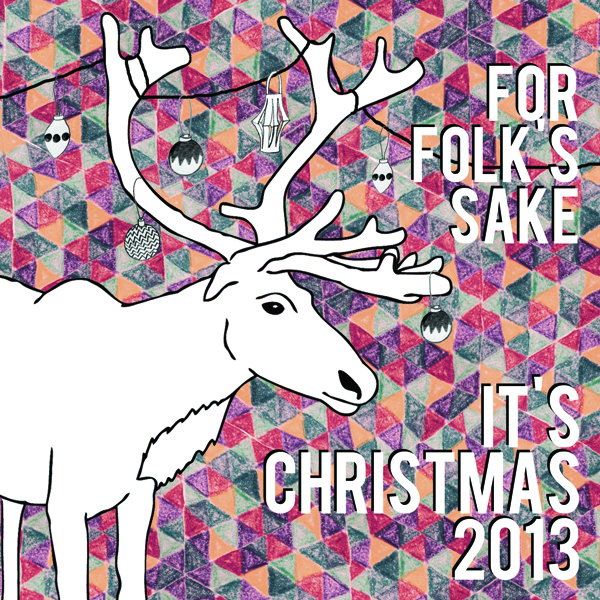 Deck the halls! Ring the bells! We've got Christmassy news.
Team FFS are delighted to announce the tracklist for For Folk's Sake It's Christmas 2013 – and give you a first peek at the artwork, designed by lighthouse-creator Sarah Oxley.
1. Patch & the Giant – God Rest Ye Merry Gentlemen
2. The Pollyanna Band – Christmas All The Time
3. Sophie Jamieson – The First Noel
4. Stornoway – Gondwanaland
5. Joe Innes & the Cavalcade – Santa Says "Relax"
6. Alessi's Ark – Joy To The World
7. Left With Pictures – The Coldest Night
8. Howard Carter – Adagio from Corelli's Christmas Concerto
9. Worry Dolls – Coming Home
10. Dark Dark Dark – Winter Coat
11. Jessie Moncrieff – At Your Door
12. Inti Rowland – Coventry Carol
13. Laish – Silentish Night
14. Emperor Yes – Time Frog 4000
You can pre-order the digipak CD now from Bandcamp.
The record will be released on 1 December 2013 and all UK pre-orders will be in your mailbox so you can listen to them the minute the clock strikes December.
All profits from the sale of For Folk's Sake It's Christmas 2013 will go to Médecins Sans Frontières.
DID YOU KNOW: This is our FOURTH Christmas record. The other three – featuring songs from The Leisure Society, Caitlin Rose, Admiral Fallow, Tom Williams & the Boat, Devon Sproule, Darren Hayman and Dan Michaelson – are available from forfolkssake.bandcamp.com