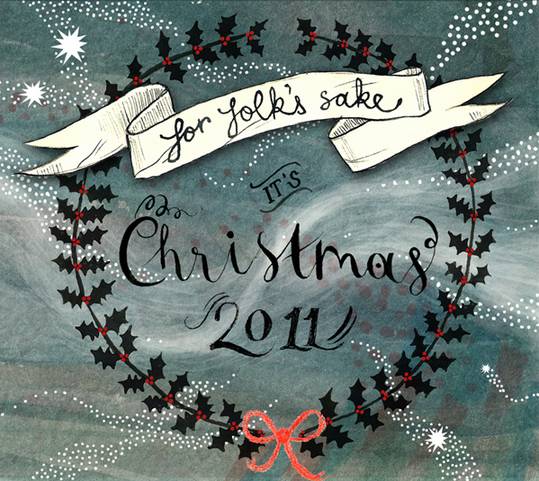 Please forgive us for adding to the bit-too-early Christmas chat, but we're SO excited to announce the release of our second Christmas compilation For Folk's Sake It's Christmas 2011, which is out on 28th November 2011 and available to pre-order now at forfolkssake.bandcamp.com.
Some of our very favourite artists have donated songs to the record, which is being sold to raise money for the Integrated Cancer Centre. Just look at who we've got for you…
Howard Carter – Christmas Blues
The Leisure Society – Christmas Mistakes
Caitlin Rose with Keegan DeWitt – You Never Come Home For Christmas
Cocos Lovers – Christmas is Coming/God Rest Ye Merry Gentlemen
Devon Sproule – Send Me To Coventry
Darren Hayman – Lost In The Snow
Paper Aeroplanes – In The Bleak Midwinter
Kathryn Williams & Neill MacColl – Christmas In Hell
Fiona Bevan – Love In A Cold Climate
Hollows – Come Thou Fount Of Every Blessing
Adam Killip & Mi Mye – O Come All Ye Faithful
Laura Boyle – Silent Night
Some truly lovely physical copies, featuring more artwork from Amber Cassidy (there's a wee preview below), are available to pre-order now from forfolkssake.bandcamp.com priced at £8 (+ postage). All pre-orders come with an immediate download of the album. There's a very limited number of physical copies available (cos we have to post them out BY HAND) so get them while they're still in our sitting room.
Then, on 28th November, For Folk's Sake it's Christmas 2011 will also become available as a download for £5. Or you can choose to give more if the Christmas cheer/sherry has got you feeling extra charitable.
All profits from the sale of For Folk's Sake It's Christmas 2011 will be donated to the Integrated Cancer Centre at King's Health Partners, a pioneering centre that combines cancer research with innovative treatment, trials and care.
A huge thank you to all the bands and artists who donated their time and talents so generously – we'll be bringing you more from them in the coming weeks.