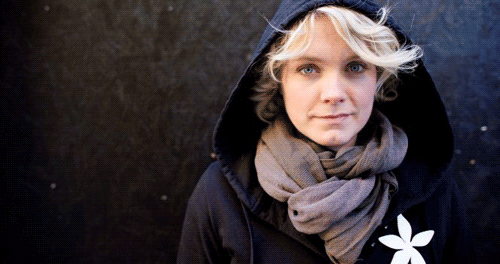 It's a rainy Tuesday night in Manchester, and Oxford Road is quieter than usual. Perhaps this is because everyone is in the Deaf Institute, falling a little bit in love with Ane Brun.
Weaving through the captivated crowd en route to a suitable vantage point, her spectacular voice, soft but sharp like a flute, hits me and draws me in. I congratulate myself on a well selected 'at random' gig.
A week ago, I knew not of Ane Brun and her mesmerising tones. Every so often, I like to see someone I have never before encountered.  Unlike making your acquaintance with a musician via an album or a video, a gig binds the listener and the performer together in a collective experience. This love is reciprocal.
Illuminated in a hazy triangle of light and surrounded by a generously equipped band, she powerfully but calmly lays out the first verse of 'The Puzzle':  "I Walked in to love / I walked into a minefield I never heard of".  The hushed beginning is soon met by a paradoxically staccato, more up tempo chorus – expressing, through both lyrics and the music, the chaos of heartbreak ("Her remains were spread out like the pieces of a puzzle/ it took her 365 days putting them together").
Perhaps the band are attempting to break a world record for most instruments on stage at one time, or perhaps they are trying to find the one instrument that Ane cannot mimic with her voice. Either way, I am very excited by the arrival of an accordion, not to mention how well it fits with the flute, cello, keyboards (two of) , drums and sweet backing vocals.
Yomping into the liveliest portion of the gig, the percussion takes over from the more feminine harmonies of earlier offerings and Ane gets her best dance moves out for us. Dressed in exceptionally wide trousers and an equally extravagant shirt, there is quite a lot of fabric to be flounced around here. She looks well cool.
Symbols crash like a stormy sea and the sounds from the tempestuous 'This Voice', met with a few puffs of the smoke machine, propel us into an all together moodier moment. A few minor chords and the dink of the triangle give me a spooky chill (for this week a full moon is due, you know).
Ending (for the first time at least) with a descent into something akin to a samba, the band exchange their instruments for drum sticks and turn the volume up on the rhythmic drumming. The floor shakes beneath me.
Encores ensue – but one would expect no less from the woman who had too many songs to put on to the new album, and so made an entire B side record dedicated to the "the ones that didn't quite make it".
This very intimate gig, which sees her touring her new album, It All Starts With One for the first time in the UK, has commanded quite a crowd.  Those who caught this tour will surely agree, we were lucky to experience Ane whilst she remains in the 'small & intimate' category. I don't think she will be there for much longer…..
Nathalie Depledge