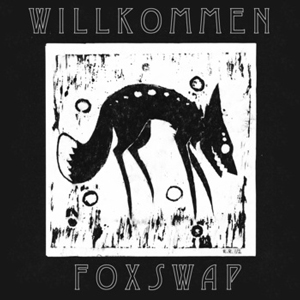 FFS can exlusively reveal the tracklisting for the Willkommen Collective's covers album.
Foxswap is an 18-track album, which will be available to download for free from bandcamp from tomorrow. The collective ask that you make a donation to the PIAS/AIM fund.
And we have a sneak preview for you from Emma Gatrill, the vocallist from Sons of Noel & Adrian, Laish and Mariner's Children. Here's her cover of Thousand Ships by Dancehalls.
The tracklisting is as follows:
1. Emma Gatrill plays Thousand Ships by Dancehalls
2. Laish plays Moth in the Motor by Rachael Dadd
3. Kristin McClement plays Dust Disturbed by Eyes and No Eyes (formerly Tristram)
4. Dancehalls play Yo Mama by Peggy Sue
5. Rachael Dadd plays A Happy Accident by Laish
6. Eyes and No Eyes play You Can See My Boat by Rozi Plain
7. Woodpecker Wooliams plays Hands in the Sink by Alessi's Ark
8. Atlas Crease (Will Calderbank) plays Thousand Ships by Dancehalls
9. Animal Magic Tricks play Heads of Dogs by Birdengine
10. Birdengine plays The Ruining by Kristin McClement
11. Moonshine Moonshine plays Kings by Shoreline
12. ocdc plays Yo Mama by Peggy Sue
13. Martha Rose plays A Happy Accident by Laish
14. Rowan Coupland plays Karoo by Kristin McClement
15. Rozi Plain plays Wave Me Off by Hamilton Yarns
16. Kopek plays Come Run Fun LJ Baby Obituary of the Griffin by Sons of Noel and Adrian, Lulu and the Lampshades, Laish and Eyes and No Eyes (formerly Tristram)
17. Emus Hamtrill play Saltwater by Peggy Sue
18. Richard Dawson plays The Sea The Sea by Peggy Sue