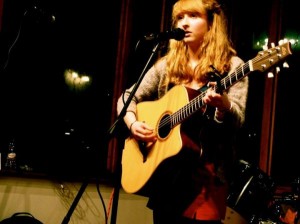 It doesn't quite seem believable that emerging London talent Georgia Bruce is still a teenager. So much so we had to send in the panel to make sure it was actually true.
---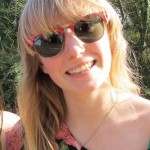 Anna Mellor: After only hearing one track by 16-year-old Georgia Bruce, it became obvious she's to be treasured. The Laura Marling comparisons are going to be inevitable; the youth, the strength of lyrics and song writing and the voice which Laura too possessed at such a young age. There is more innocence to Georgia Bruce though, particularly in the voice which has a sweetness to it. The lyrics tell stories of fools and friends and the melodies are strong and pretty. The Fool's Lament shows a incredible start from the North Londoner and I believe there will be much more exciting things to come from her. Without a doubt one to watch!
---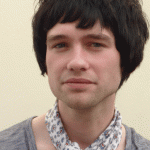 Damien Girling: Georgia Bruce is a precocious London resident. That she's making her way into the world of indie-folk before most have begun there A-Levels will draw inevitable comparisons with Laura Marling. However the most immediate resemblance I find is to Kate Rusby, Emmy the Great, Lilly Allen and Kate Nash. Whilst the later two artists may find you turning up your nose it is in their oscillating between spoken, London-accentuated, vocals and melodic singing where affinity is found. There is little similarity to the music itself, which is influenced by the pleasant finger picking and sweet chord progressions of Kate Rusby and Emmy the Great. Where Bruce's songwriting differs in approach to these two artists is in it's sparsity, there is no instrumentation beyond her guitar. There is of course time for this to come and for now it's fair to say that Bruce is building a solid foundation that could see her become a leading light within the indie-folk scene in the future.
---
Alice Sage: The unfeasibly young Londoner Georgia has talent in buckets. Her voice (adaptable, clear, strong, beautiful) is tainted with the lightness and clarity of youth. Her lyrics are similarly innocent, colourful but compelling, complex and moving, nevertheless. She has a genuine skill for fiddly lines and unexpected key changes. This Story is musically beautiful and lyrically surprising. Though there is triteness and tweeness in her stories it doesn't dampen the joy of listening to them. She gets double thumbs up for slipping into dropped-consonant fake-cockerney just once – the rest of the time her voice is uniquely her own. I hope she keeps to the finger-picking simplicity and story-telling enthusiasm that seems to come so naturally to her. Definitely worth hearing more.
Check Georgia Bruce out for yourself at her myspace page here.