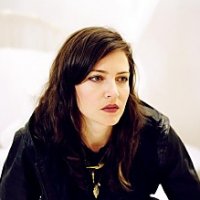 Ex-Smog/Bill Callahan backing singer and actor Sarabeth Tucek's second album Get Well Soon was released last month by Sonic Cathedral. Currently on tour with the Leisure Society, she kindly put fingers to keys to answer FFS's questions.
Hello, please introduce yourself and your music to the uninitiated.
I am Sarabeth Tucek (shakes imaginary hand)  and this is my music (music sits motionless).
Tell us a bit about Get Well Soon.
It is my second record. It covers a period of time in my life that was primarily influenced by the loss of my dad.
What has been your best ever gig or tour?
I enjoy every tour because it means I am travelling. The best show was probably playing with Bob Dylan. I mean, it's kinda all downhill from there. Not to dismiss past or future shows but… you know what I mean. Bob Dylan.
What is the worst thing about being a musician?
The pay.
Who are your favourite live and recording artists?
Well, live shows, let's see… I saw the Flaming Lips about 15 years ago and I have never forgotten that show. It was so loud and they had these tiny Christmas lights all over the stage. It was when they still did rock. Amazing. Elliott Smith had a real intensity and/or fragility live. Always meaningful. Saw Roky Erickson last year. So great and menacing. I saw Neil Young in Massachusetts at an outdoor theatre when I was a teenager and that blew me away. Oooh also, Echo and the Bunnymen when I was a teen. Amazing! I love Neil Young, Led Zeppelin, Flaming Lips, Velvet Underground, Gun Club, Gary Numan, Big Star, Smog, Bill Fay, Nico, Dylan, it goes on and on…
What inspires you?
Otherness. Authenticity.
If you won a billion pounds what would you do with it?
Faint… and then I always wanted to buy a big house by the ocean and send everyone I love a key so they always have a home somewhere. Honestly, I would make sure everyone I love is taken care of and then give it to charity. That kinda money in the pocket can bring misery.
Which of your songs is your favourite? Do you have a least favourite?
I love 'Night Light' from my first record. And least favorite… that's kinda like talking behind my own back.
Do you have any exciting plans for the future?
Touring England is always exciting for me. So, yes, in April/May.
If someone wants to hear your music, where should they start?
At the beginning.
Finally, we're always looking to expand our musical horizons. Do you have any recommendations of bands or artists we should be looking out for?
Amanaz is an old band from Zambia. Recently reissued, I really recommend it. It's like an African Velvet Underground. I love Deerhunter, and Luther Russell has a double LP coming out soon called 'The Invisible Audience'. Tremendous.