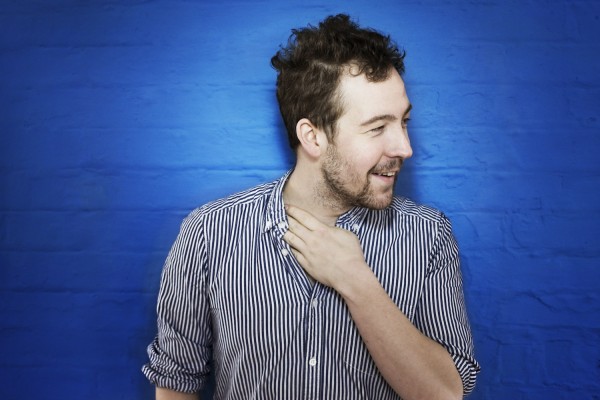 In the week that his Tumble Down EP is released, Marcus Foster has taken the time to answer our gently probing questions.
For anyone who may not have heard your music before, can you describe it to us in less than 10 words?
Gospel, Blues, Funk, Folk, Rock'n'Roll. I think that pretty much sums it up!
Your EP "Tumble Down" has been a long time in the making. Can you tell us a bit about the process of creating this EP? And how do you feel about the difficulties getting it released?
I was really lucky to find Communion. I did a compilation with them last year and they seemed like the right kind of people to work with. The EP is ready to go and I think it's a nice introduction to the album.
You've stated before that your musical influences range from Van Morrison and Bob Dylan, to newer artists such as Johnny Flynn. Which artist has been the latest to influence you, and why?
I really like the new Black Keys album. And a lot of Jack White stuff recently. I really like the production, the attitude, the sounds. It's coming from old-school, blues influences and is recorded with beautiful equipment and is a different approach. I'm really liking the idea of being a bit out there at the moment.
Where do you get your ideas for songs? Are your lyrics based on personal experience?
Some of them are. Some songs I try and write as characters in films, a bit more cinematic. Like 'Shadows In The City' from the EP is really quite character-based. There's a couple of songs on the album that are a little weird – saxons/ vikings coming to destroy a village or someone escaping from a prison – obviously not stuff I have personal experience of! But some of the album songs are quite personal.
One of the earliest Marcus Foster songs I heard, and my favourite, was "I Don't Mind", can you tell us what your favourite track is and why?
One of my favourite songs to play from the EP is 'Tumble Down'. I really enjoy playing that one. That's deeply personal. I'm also really into playing a song called 'Rushes & Reeds' on the album and one called 'The Room', but basically it changes every day!
We've got to ask – gaining song writing credits on the Twilight soundtrack had to have helped your career, in terms of getting your name out there. How do you feel about that? Was there a big change for you after late 2008?
It allowed me to tour America and Canada and play sold-out shows in every American state. It was crazy. It hasn't really changed much over here, which is great. It means I can build the kind of audience that I want. Not that the US audience aren't the audience that I want – it's great that they are exposed to music that they wouldn't normally hear, but it's nice to have any opportunity to build a new UK audience into great music for the right reasons.
You regularly perform at the Communion nights (and I'm pleased to see your playing the Bristol night in April!) How did your involvement with Communion come about?
Kev (Jones, one of the Communion founders) got in contact with me about playing a Communion night. He heard my music somehow. It was around the time they were doing their debut compilation and he asked if I wanted to do a track. We cut 'Circle In The Square' in about 3 hours in a studio with bunch of Communion musicians and it sounded great. That's pretty much how my band came about too.
What has been your favourite gig you ever played? What about it made it so special?
I just love playing with my band. At the Borderline show (HMV Next Big Thing in February) we had a really great time. The first gig we ever did with our band in Bristol was really fun, we were really excited and in the midst of recording the album. I just love the band and want to play with them forever!
You just played an NME/Shockwaves gig with Mumford & Sons, is that something you were looking forward to? Which other bands would you love to open for?
I'd love to go on tour with Tom Waits, that would be my dream. Because then I'd get to see him play every night. I'd really love to open for Arcade Fire, that would be amazing.
Any plans for a tour this year, either in the UK or abroad?
Yes, everywhere! We're doing a stack of dates in April around UK. We're playing loads of festivals and then hopefully head back to US later in the year.
And finally, how do you discover new music? Who do you think we should be listening to?
Andrew Davie's great. Really like Rachel Sermanni too, who played with me at the Borderline show. Daughter's (Elena Tonra) also pretty brilliant. I could go on for ever on that one!
Marcus was answering questions from Rebecca Lewis. Tumble Down is out now.