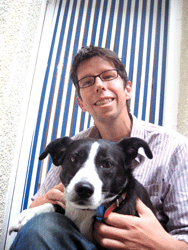 Darren Hayman is auctioning off the notebook he used to write the January Songs in a bid to raise money to help animal victims of the tsunami in Japan.
The 78-page moleskin notebook is described as being "full of drawings, song lyrics, prose, notes and other writing" and you can get a look at all the contents here.
The ever-humble Hayman also noted on the ebay description that "the notebook would have no use for anyone other than a fan of Darren Hayman or Hefner".
Money raised will be donated to the Japan Earthquake Animal Relief, a charity committed to helping animals affected by the recent tragedy in Japan.
The auction is picking up pace, much to the relief of Hayman, who this morning tweeted: "Phew £50. Anything less then £50 I would have been embarrassed. Well done whoever did that. A week to go."
By lunchtime of the first day, it had hit three figures, with the auction due to end next Friday. You can see the auction here.