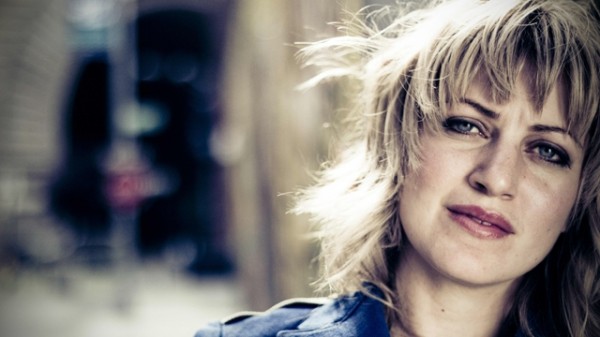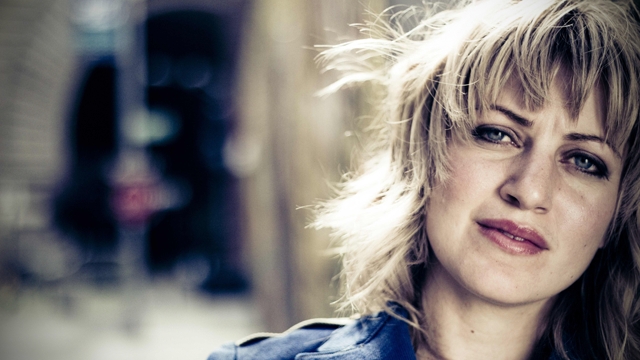 After 2010's triumphant folk opera Hadestown, it was hard to see where Anais Mitchell had left to go. And with Young Man In America, she's taken it down a notch: quieter and more introspective, it's Young Man's characters that make the record just as good as its predecessor. FFS met an ebullient and wriggly Anais before her Winchester show in August.
FFS: A lot of the characters in Young Men In America are male. Was it a conscious decision to write from the man's perspective on this album?
Anais Mitchell: I don't think it's something that I had never done, because I'd written the male characters in Hadestown and there were some other songs that seemed to be from men's perspectives in the earlier records. But I guess that some of the stories that wanted to get told were men's stories.
One important figure in the album was my dad – he's on the cover of the record – my dad is a writer and wrote novels when he was young and then he became an English teacher and he wrote some more non-fiction memoir type of thing.
One of the tunes on the record is really a re-telling of a story he wrote when he was young. That's 'The Shepherd's Song'. That book is out of print – although sometimes people come up to me at shows and are like, 'Hey I found your dad's book!'
A few of the songs on the record were inspired by my dad or for my dad. So I think that's one reason why.
What does your dad think of the record?
Um… I think he likes it… It was a little intense because a lot of the songs were about his dad – who died a couple of years – and they had a complex father son thing going on – so watching him go through that and sort of seeing him as not just my dad but another man's son.
That was definitely an inspiration for a bunch of the songs but also I think the 'young man in America', that's sort of an iconic character. I just sort of needed him to be a man in order to describe some of the feelings that come with that. Even though I have some of the feelings myself you know, he was able to represent the feelings of reckless ambition and never being satisfied. And sort of lust.
Are those traits you have yourself, but see as being more typically male?
I guess it's sort of a classic thing for a man to be hungry, lustful for not just sex but everything, money, success, power things like that and of course we all feel those feelings.
There's a couple of songs that are from women's perspectives. 'Tailor' had to be really sort of sideways or something. I guess the story kind of speaks for itself, but it's about this character who defines herself in terms of what other people want her to be and she's always responding to other people's desire rather than feeling her own desire. And I think that's a classic female situation.
It was a slow song to write because I wasn't sure where to go next and I think what makes her interesting as a character is that she hasn't figured it all out, she's just realising that something's fucked up. She has a sense of her power – the remembrance of being a little kid that wants something. And I like that she was at that place in her story.
Is Hadestown going to be licensed out as an opera?
Yeah we're working on it. It's been kind of crazy. Originally the show began as a theatre show. Totally DIY – we did it in Vermont and it was all friends of ours who put it on. And then the record came out and the whole thing moved into concert world because we were touring and that was an audio show – no-one was dressed up or anything. So we really want to put it on again. It killed me because people have heard the record and they're like, 'Oh I'd love to put this on at my university,' or something. And we're like, 'Can you wait a year?' because we're hoping to mount it ourselves again and then publish it. We're working with someone in L.A. on developing that.
Will you play Euridyce?
I don't think so, I'm not a great actor! I think it deserves someone who could really physically embody the character. That's what we're shooting for. But I am working on a couple more songs for it.
What gaps are you filling with those songs?
It's funny to talk about… but I think, on the recording, the first act is really energetic then the second act descends into this slow dark place – and that's kind of necessary, but also I sort of want there to be a moment of lift and redemption. And there's a couple of other things like the Persephone character is such an interesting character, but she doesn't really appear 'til halfway through the show and so giving her a little more back story. Some stuff like that… I'll try not to fuck it up!
Your writing is really characterful. Do you write short stories or novels or poetry as well?
I wish I did. I mean Hadestown was really an education in that storytelling in that it has multiple characters and they all interact with each other and the arc of what a story can be. I definitely want to do more stuff like that – more operas and things.
I've always loved that tradition of storytelling even just in individual songs. I love English and Scottish and Irish folk ballads – long ones with many verses, eight minutes long or whatever. That scene exists in the States too with a certain kind of songwriting that's very narrative. I've always just been drawn to that – what kind of story you could tell.
A couple of years ago when we interviewed you, you mentioned you were working on an album of British Folk songs with Jefferson Hamer…
I just saw Jefferson last week we played one of our ballads at the Cambridge Folk Festival.
I love coming to England and I love singing those English songs because the language is so exotic for me. But it is English. There's this crazy longing to be the other thing and there's this exoticness and romance in the kind of words people use over here. Of course we understand them because it's English but it feels so different from the way people talk in the States.
That record should come out in February, I'm hoping. But it's really interesting as an American – and with Jefferson, we really co-arranged everything. We sat there and line-by-line we'd decide – maybe we would choose a line from a version that we really loved or maybe if the line didn't seem to be in any of the versions we would make it up but we would try really hard to stay consistent with the style of the song.
There were certain words that seemed hard to pull off as an American. So like 'mantle' is a very beautiful word or 'bower' there's a lot of words but sometimes you just can't replace them because the poetry is so good. But it would be great if Americans could listen to those stories and comprehend them in real time, you know – not have to get out the books. So that's the line we're walking.
Were you educated by your parents about folk music?
My parents were hippies. They were back-to-the-landers. They came from the suburbs and they hitchhiked to San Francisco for the Summer of Love. And the thing to do back then was to go to the margins of society and to buy a farm – to go back to the land and to raise your own. So they did that and they bought a farm so I was raised in a really rural spot in Vermont. And they had a great record collection of the music that came from this time.
Have you ever heard of this book 'Rise Up Singing'? It was kind of the bible of my songhood – my song childhood – it was put together by some hippies, and it was all these folk songs would have early Paul Simon but it would also have child ballads that maybe Bob Dylan or Joan Baez had sung. And I remember there was 'Willie Winsburg' and it said "child ballad number whatever". And I always thought 'what are these child ballads'?
The hippy culture that wanted to go back to the land and who wanted to raise their kids in this really wholesome very natural way. There was a lot of folk music because it was a wholesome thing to do. But my family doesn't play music, so we didn't play violins or stand around the piano or anything like that. I sort of wish we had. I love to go to Irish sessions sometimes. New York has some amazing Irish Sessions. It's such a great scene. You're at the bar but there's kids running around and everyone's just playing but it's not about showing off. I would love to have grown up with that.
Having not grown up with people playing and singing did that make you nervous about performing at all?
Well my parents were very supportive of me being a songwriter. And when I got into songwriting I guess I wanted to write. And that was encouraged of course because my dad was a writer and an English teacher. And writing songs was a way I could do that. So the scene that I was really drawn to was songwriting. And that's quite different from traditional playing but they get lumped together because they're acoustic.
So were you wanting to write for other people?
I do want to do that, I've always liked that idea. And I think I always just had the sense that It would be cool to be behind the scenes like that and my voice is kind of unusual so I think it's kind of an acquired taste…
So if you write a pophit you want Rihanna to sing it?
I would LOVE that! There's something very exciting about that. When I got into it I wanted to express myself. I was very influenced by people like Ani DiFranco and Tori Amos those women were all bursting on the scene when I was a teenager and they were really strong as role models and they were really idiosyncratic you know. They weren't making pop music. And Ani was a great example because when I was coming up as a songwriter I never thought of getting signed to a record label. I didn't think you need to get discovered and get developed. You just need to write the songs then make a record with whatever little money you have and then sell it until it's gone and then make another one.
That's a really hard long stony road to walk down, but if you persevere it exists for you, you don't have to take the elevator, you know.
I guess the only thing is that you're constrained by not having the money that someone does, but I believe that you can have too much money to make a great record. And you can have not enough money. There's a middle ground. I guess it depends on how you use it but sometimes if there's too much money you're not forced to make the choices because you can always do another session and if there's not enough money you might not have time to.
I watched this documentary about Woody Allen on the flight over here and He's made a movie a year for however many years. And people are like 'why don't you just make one every three years and make it really great and he said You just don't know if it's going to turn out. Everything's great when it's in your mind. It's when you go to realise it on film sometimes it turns out and sometimes it doesn't. And you keep firing shots.
What do you like doing outside of music?
I'm married to an awesome guy, so I try to hang out with him. And we mostly live in Vermont, which is where I grew up, we settled down there and we have a house and a garden and so… in a way…. I mean I never intended to become my mum or whatever, but there's a lot of country living that happens there.
But we just moved to New York a year ago. We didn't sell our place we're going to go back but we just wanted to spend some time in the city. And that's been so fun. It's been this amazing time. We live in Park Slope in Brooklyn, right by the park and it's been great not only for all the music that's there but all the theatre. I was saying I wanted to do another opera and the Hadestown thing so I wanted to get to know the lay of the land.
We're going to go back to Vermont next year it's cool to be in New York for a little while and take what we can get from it.