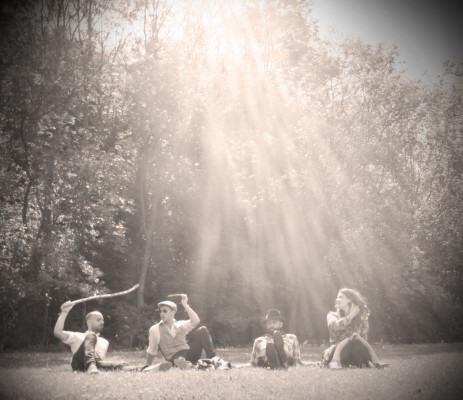 Brighton four-piece House of Hats are due to return with their second EP, Rivers Will Run, this September but their debut self-titled collection from last December isn't done winning them new fans yet. The band have just released a new video for their song 'This Love' from that EP, premiered here, and the track is available as a free download from www.houseofhatsmusic.com.
Hello, please introduce yourself to yourself and your music to the uninitiated.
Hello! We are Noddy (lead vocals, piano, guitar), Alex (lead vocals, guitar), James (vocals, percussion, ukulele) and Rob (bass, stomp box, tambourine). We've been very close friends (well … more like family, quite literally in Alex and Robs' case, as they're brothers) for a long time and we play music together in a Brighton based band called House of Hats.
We've got a bit of an international thing going on in the band with cultural family influences from Italy, France, Poland and Kuwait! Our music undergoes a very natural process from creation to performance; you can expect gentle harmonies and stories of love, loss and everyday life, over minimal and intricate acoustic arrangements. Isn't it always a bit weird/uncomfortable when musicians try to describe their music to others? We'd much rather hear your thoughts on our music … what do we know?
How did you start playing music?
I think we all started playing music out of a necessity to express ourselves. Noddy began singing the songs of her heroes, namely Ella Fitzgerald, Etta James and Bob Dylan at a very early age alongside playing the piano and guitar. James also started at an early age, singing in A Capella choirs. Alex began his venture a little later down the line, a 16 year old boy locked away in his bedroom practicing his guitar and writing/singing his own songs, as well as those of his heroes (Cat Stevens, Johnny Cash among others), for endless hours. Rob started even further down the line and didn't pick up a bass guitar until he was 20, he learnt his instrument by joining a band without being able to play a solid note (Rob: Thank you for your patience Lazybullets!)
Tell us about your latest EP.
Our forthcoming EP is called Rivers Will Run and is set to be released on 3rd September. We were invited to watch The Staves play a gig in Brighton towards the end of last year and we met Fink, he hooked us up with producer Tim Bidwell (Kate Walsh). We met with Tim a couple of months later and we decided to make a record together.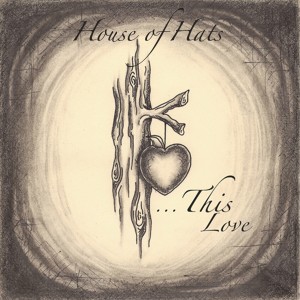 What was your best ever gig?
That's a tricky one … Ronnie Scott's was a big highlight for us, such a beautiful venue. We recently put on the first night of a monthly residency we have started in Brighton called 'The Harvest Sessions'. We had some unbelievable acts playing with us (Cordelia, Roo Panes, Will and The People) and it sold out in Pre-Sales. That was a very proud moment, we've got amazing fans.
What's the worst thing about being a musician?
People trying to skank you.
Sometimes being hungry and not being able to do anything about it.
What inspires you?
We all inspire each other (and occasionally piss each other off!). Our families. Our friends. Our fans. Our instruments. Other artists. It's an endless list really, so we'll draw the line here.
If you won a billion pounds what would you do with it?
Sort our mamma's out first, worry about the rest after.
Out of your songs, which is your favourite and why?
We like all of our songs for different reasons and they become our favourites depending on the situation/time/mood I think. 'Home is Where The Heart is' has a soft spot with us all, maybe because of its simplicity and honesty? There's something special about stripping a song right back to just one or two instruments and vocals.
What are your plans for the future? Do you always want to be playing music?
We'll definitely always be playing music. Our plans with House of Hats are to carry on doing what we're doing; trying our best one day at a time.
Finally, we're always looking to expand our musical horizons. Do you have any recommendations of bands or artists we should be looking out for?
Will and The People. We literally couldn't recommend these guys enough. They are majestic in their talent and bring such an honesty, energy and dignity to music. Their sound can range from foot-stomping reggae infused with dance and euphoria to beautiful and intimate A Capella performances.