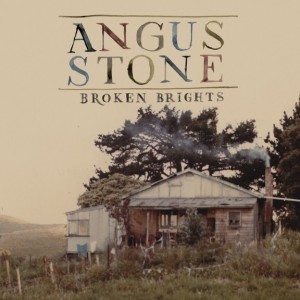 Angus Stone, the brother contingent of brother and sister duo Angus and Julia Stone, makes his return to solo-dom this summer, and a rather lovely return it is. Both of the Stone siblings started out as solo acts, using each other for backup while playing open mic nights. While Julia's first solo album, The Memory Machine, was released in 2010, Angus released Smoking Gun under the guise of 'Lady of the Sunshine', back in 2008, with the intention of 'rocking out'. Broken Brights perhaps is Angus reflecting on this with hindsight, and, combined with the successful worldwide tour of Down the Way, he has produced a more mature and worldly sound. Stone has grasped the opportunity to show off his musical skill in a variety of instruments together with his intense and personal songwriting. The album is a delight to listen to, each track bringing something different while working cohesively as a whole.
The title track is, at first, unassuming, however it builds to a haunting conclusion, the repeated line of "Is that the old man waking in the dark?" complimented by subtle layers of percussion, which become a recurring characteristic throughout the album. Despite his fantastically awkward dancing in the video, in the following track, 'Bird on the Buffalo', Stone uses metaphor to effectively illustrate a budding romance, sharing his personal sentiments in a way that is relatable to all. He weaves familiar electric guitar riffs with his subtle and anecdotal vocal, which, in accordance with the cinematic scenery presented in the video, produces an emotive and exciting effect.
Although he has spent the last seven years travelling and touring the world the influence of living in the United States is very clear, as much of the album has a touch of country and western to it, particularly the bass and panpipes in 'The Blue Door', evoking scenes of cowboys riding on horseback through the desert, being ambushed by awaiting Native Americans. However the imagery together with the sound soon flips in 'The Apprentice of the Rocket Man'. The result is an album that undulates through various styles, taking influence from blues, folk and bluegrass producing and sound that is individual to Angus Stone.
On the whole the album has a great sense of balance; from the epic and intense 'It Was Blue', to the uplifting 'Be What You Be'. While each track is distinct from the others Stone has maintained a clear sense of direction and personal identity throughout. Though the Stone siblings undeniably compliment each other, with Broken Brights Angus has shown himself to be a solo artist capable of capturing the listener's attention just as much as when he records with his sister. Broken Brights is an enjoyable and interesting listen, and I recommend it highly.
Words: Amelia Steele