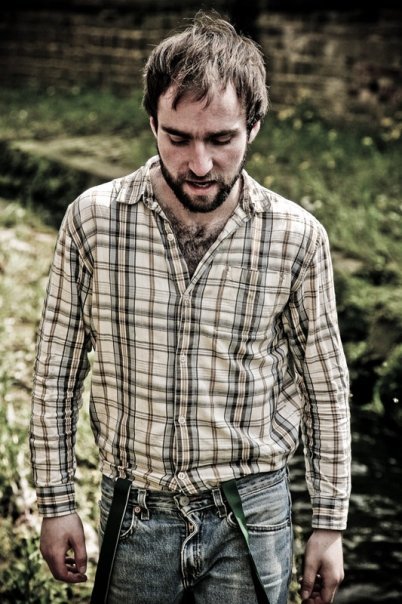 Between playing drums for Hope and Social, guitar for Rosie Doonan and, since the turn of the year, bass for Ellen & The Escapades, it's a wonder that Gary Stewart finds time for a solo career. But find it he does, even if the Leeds-based Scotsman's latest EP did need the full Year And A Day it is named after. At times stark and beautiful, and at times barnstorming bluegrass, it's an ideal way to get to know a man so often found toiling behind others. And if getting to know him is what you want to do, read on as Gary tells us about what inspires him and how he found himself playing in so many different bands.
Hello, please introduce yourself to yourself and your music to the uninitiated.
Why hello there! My name is Gary Stewart. I'm a short, bearded Scottish singer/songwriter of folky/pop tunes. I self-released my debut album, Boy Cries Wolf last year (which received praise from Steve Lamacq, R2 Magazine and Maverick Magazine) and am due to release my new EP, Year and a Day on June 25th this year. My biggest influence is fellow shorty Paul Simon and I also admire the music of James Taylor, Carole King, Admiral Fallow and Dan Mangan to name a few. When I'm not playing my own music I play drums and sing for Yorkshire's answer to the E-Street Band, Hope and Social and I play guitar and sing for Wakefield singer/songwriter Rosie Doonan. Oh and I also masquerade as the bass player in Leeds-based folk/pop quintet, Ellen and the Escapades :)
How did you start playing music?
G: I started out playing drums around the age of 13 after being blown away by watching my to-be best friend smash the skins every break time. From there I went on to learn orchestral percussion, which in turn took me to Leeds to study orchestrally. It was during my degree that I started to take guitar playing and songwriting more seriously (I'd dabbled on my Dad's guitar as a teenager and formed a Celtic Rock/Covers band towards the end of my school days, which featured Ross Ainslie and Ally Hutton – two amazing Scottish musicians who have gone on to play with the likes of Salsa Celtica, Dougie Maclean, Old Blind Dogs and the Treacherous Orchestra). I started going to an open mic night at Dr. Wu's in Leeds, (hosted by the guitar wizard, Stephen Fry-endorsed and now Youtube sensation Jon Gomm) and once I'd gained enough experience and confidence playing live, I started to get gigs and worked hard on honing my songwriting skills. And that process continues to this day.
Tell us about your latest EP.
G: Well,the EP is called Year and a Day and is named thus as the first three songs took pretty much a year to record and the fourth song was recorded in, yep, you guessed it – a day :) The four songs are deliberately very eclectic sonically and stylistically with an aim to keep the listener excited and engaged from the start of the EP to finish. The opener 'Thorns' is a moody piece and based loosely on a scene in George Orwell's Animal Farm. 'Eve' is a simple little hymn I wrote just after the birth of my niece, Neve. 'Green', which is the single from the EP, is an up-tempo bluegrass-tinged song which deals with the cliche that musicians on tour pick up girls (or guys). 'Blue' is a love song that sort of says 'I know we've both done wrong in the past but let's make an allegiance. We're good for each other'.
What was your best ever gig?
G: This is a really tough question to answer as there have been lots of really good gigs I've played with different merits to them; Glastonbury with Hope and Social in 2009 was amazing as it was my first ever Glastonbury – and to be there for the first time and 'playing' the festival was just such a wonderful experience. Supporting James last minute at the 02 Academy in Leeds and playing to 2500 people was mind blowing. And it was VERY last minute. Within 45 minutes of getting the phone call I was onstage and like a rabbit caught in the headlights. My album launch at the Brudenell Social Club in 2010 was such a humbling experience; the fact that i managed to pretty much sell-out the show off my own back with no promoter or agent was a real sense of achievement for me. And the gig was great. And the audience were amazing. Wonderful. Sorry that's three 'best ever' gigs. Maths was never a strong point of mine…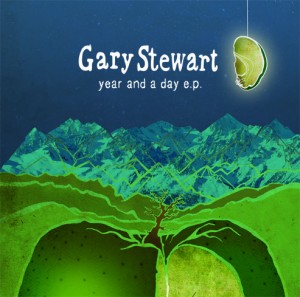 What's the worst thing about being a musician?
G: The worst thing about being an 'unsigned, DIY' musician-to me-is having to be on top of EVERYTHING all the time; you're your own manager, booking agent, PR Man (although for this EP I've enlisted the help of a wonderful, helpful man called Kim at Supercat PR), radio plugger, promoter, logistics hulk, tea maker etc. And that's alongside being the 'artist' who has to write and record first and foremost. Musicians are the worst breed of people for being organised by nature so it's a real challenge trying to be on top of all the logistical aspects that nurture your profession as a musician. A lot of the time you're just throwing shit against the wall and seeing what sticks too. But it's all part of the music rollercoaster and i'm the kind of person who always wants another shot on the rollercoaster once it's over :)
What inspires you?
G: People. Random Acts Of Kindness. Personal setbacks. Love. Paranoia. My brother. My niece and Nephew. Past relationships. Life in it's colourful, if jaded and weary patchwork…
If you won a billion pounds what would you do with it?
G: I'd probably do the standard things first and foremost; buy a house (or maybe two – one in Leeds and one in Edinburgh for retirement ;), see that my family were comfortable, upgrade my musical equipment, set up my own record label, put some money into a savings(£10million or so ;)), pay the rent on the Crypt that we record with Hope and Social, buy a really cute little bar and make it into a venue for singer/songwriters and acoustic bands. I'd also give some of the money to the Teenage Cancer Trust as I used to play guitar on the TCT wards at the hospitals in Leeds and it was without a doubt the hardest and harrowing work I've ever done. The rest I'd squander on alcohol of course…quality liquor nonetheless ; )
Out of your songs, which is your favourite and why?
G: Wow. Another tough question. I guess, if push comes to shove, it'd be 'Behind The Door' from my album, Boy Cries Wolf. It's very simple in it's arrangement – just guitar and vocal – and I like the fact that I can pull the song this way and that when I play it live. Ellen Smith's vocal on the record really fits beautifully with the song. It was recorded completely live. One take. It has become one of the most requested songs in my set and it seems to resonate with a lot of people, which is kind of strange as the song is essentially about prostitution.
What are you plans for the future? Do you always want to be playing music?
G: Well I am pretty useless at anything else so I really do hope to continue to write, record and play music for as long as my body and voice will let me :) In the near future there are plans to write and record another Hope and Social album in September; Rosie Doonan is releasing a new album in November (once she's done singing with Peter Gabriel!); I'm out with Ellen and the Escapades touring with The Travelling Band in late Sept/Oct; and I'm in the process of writing songs for my new album which will hopefully be ready for Spring 2013. So yes, quite a few irons in the fire for the foreseeable future…
Finally, we're always looking to expand our musical horizons. Do you have any recommendations of bands or artists we should be looking out for?
G: I am currently wearing out the albums of Dan Mangan and Admiral Fallow who I've had the pleasure of supporting recently. My First Tooth are a Northampton-based Pop Band who are worth catching live. Their debut Album, Territories, is worth a punt for sure. There's also a fab Scottish singer/songwriter called Rachel Sermanni whose music I've fallen in love with ever since I saw her play at the Edinburgh Festival last year. Louis Abbot who fronts the aforementioned Admiral Fallow guests on one of her songs 'The Waltz' which is beautiful. And I'd be remiss if I didn't mention Ellen and the Escapades, Rosie Doonan and Hope and Social wouldn't I? ;)
Year And A Day is released on June 25th via Gary's bandcamp page.