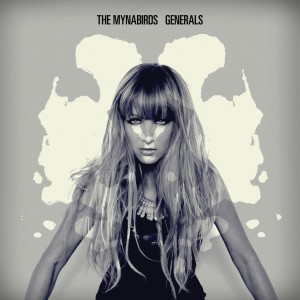 When Neil Young released Living With War in 2006 he was moved to ask where all the angry young kids who should be making such records had gone. It was tempting to reprise that question when Bruce Springsteen's Wrecking Ball – a teeth-bared attack on the financial crisis – arrived this year.
Neil, Bruce…we have your answer: with her second album, Generals, the Mynabirds' Laura Burhenn has created a serious-minded, musically addictive offering that is an unashamedly political text without any of the dusty, musty hand-wringing that sometimes entails.
At a time when America is in a handful of warfare engagements, this is a record that is drenched in the language of battle and protest. Most obvious is the insistent romper-stomper of a title track, with its chorus of "Calling all my generals, my daughters, my revolutionists/we've got strength in numbers and they're gonna pay for it".
On the opening cut meanwhile, she muses "When the war is done and we've finished all our songs/will they offset our colossal karma debt?". Elsewhere the songs are peopled by soldiers, take place on battlefronts and concern the quest for freedom. It's heavy stuff alright, but deftly and – sometimes dazzlingly – dealt with.
Of course, it isn't always a literal war Burhenn speaks of, with plenty of time devoted to the societal flaws that appear to trouble her. Sentiments like "Our books and bones are breaking down so fast/but they keep putting all our cash into the next bloodbath" or "The man of the hour is another pretty young buck/pin-stripes and a tall, black fresh-cut flower/promises sure to wither up" are positively Springsteen-esque in a bleakly poetic way.
Musically, Generals is a big departure from Mynabirds' more soulful debut, which aimed to imagine Neil Young playing Motown music. The primary touchstones here are St Vincent – whose superb Strange Mercy album could quite happily accommodate 'Karma Debt' or 'Disarm' without any noticeable dip in quality – and Rilo Kiley, whose fingerprints are evident on a clutch of up-tempo grooves.
Burhenn deserves sole authorship for the intoxicating 'Mightier Than The Sword', though. What initially appears to be a perfectly enjoyable piano ballad, gradually incorporates some ethereal backing vocals and then, at the two-and-half-minute mark builds into something sweeping and grand.
Mynabirds? This is a minor miracle.
Words: Rory Dollard