Sometimes an idea comes from so far out of left field it takes you a while to realise just how perfect it is.
Like Duane Eddy, the Rock 'n' Roll Hall-of-Famer who invented the famous 'twang' sound, recording an album with Richard Hawley, Yorkshire's diamond from the rough. A man who has scaled the greatest heights in music with more than 100 million records sold recording with one of its most unassuming workhorses. One of rock 'n' roll's most accomplished musicians, now 73, swapping the plush recording studios of Nashville for Yellow Arch, a converted Victorian factory in Neepsend, Sheffield.
But get past all of that, and you can see how easily Eddy's new Hawley-produced album Road Trip came about.
Eddy was the master of instrumentals (having decided at 17 he "didn't have the voice" for singing) who brought the world legendary tracks like 'Rebel Rouser', 'Peter Gunn' and 'Because They're Young', and who created a deep, resonating sound cited as a key influence by everyone from Jimmy Page to Paul McCartney to Bruce Springsteen.
Hawley, by contrast, seems to work in near anonymity, happier to be behind the scenes even after flourishing in a solo career he had to be cajoled into launching.
Even so, the two men connected quickly.
"He does sound a bit like he's from the 50s," Eddy told FFS of Hawley.
"You can tell he's influenced by guys like Carl Perkins. He's manages to be a really good singer and a really good guitar player too."
The two men share not only musical taste but also a manager, Graham Wrench, who was the crucial link that got them talking.
"I was over in London for the Mojo magazine awards ceremony because they wanted to present me with an award," Eddy said.
"I met Richard there. I told him I'd been listening to his records a lot, I really liked them because of all the space, the sound of them is so big, and I said if ever I'd been at one of his sessions I'd love to drop a big solo in to some of those songs.
"He just said, 'Maybe we can arrange that'. We talked about it and decided we'd do an album with him producing, so here we are."
The result is an album – his first in 24 years – that showcases Eddy's distinctive sound, clearly made with Hawley bringing a fan's respect for his subject.
"I think the sound is one of the best I've had in ages," Eddy said. "It sounds to me almost like analogue recordings."
All the recordings were done at Yellow Arch, the studio where Hawley is unofficially known as the "resident guitarist", so often does he find himself working there on one project or another.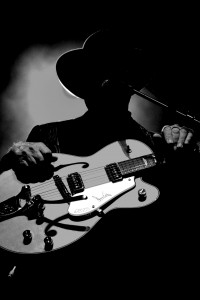 You might have expected Eddy to be more comfortable working closer to his Tennessee home, but that wasn't what concerned him.
"I thought, if I wanted to get that sound that Richard has, I've got to go to Sheffield to get it. They made it so easy. We used Richard's band, and they backed me on a short tour.
"If they can make his records at Yellow Arch, why not mine?
"It was a great studio, and it made me feel like I was back in Phoenix (where Eddy first recorded as a teenager) again because, though it wasn't quite as hot outside or anything, the studio itself just made me feel very at home.
"That's what I liked about working in Sheffield. The only difference was the food. At lunchtime someone would go and get us fish and chips. When we were back in Phoenix it was hamburgers, but otherwise it was just like being back there, the work ethic, the way we put it together, it was very fresh, very hungry.
"I was really pleased with the outcome and with the process. It was wonderful for me."
The whole thing was done in 11 days, with Eddy admitting "we humped it a little" due to scheduling restrictions, not least the fact that everything happened so quickly they had to take what studio time they could get.
Everybody chipped in, with songs written not only by Eddy and Hawley but also members of Hawley's band. That helps explain some of the more obscure references, not least how one of the tracks ended up named 'Mexborough Ferry Boat Halt'.
While Eddy got to see a little of Yorkshire during his stay, he admitted he has never been to the largely unremarkable town of Mexborough, which lies between Sheffield and Doncaster, and was puzzled when he was first told the song's title.
"I was as surprised as you were," he said with a laugh. "Shez (Sheridan, Hawley's guitarist) wrote that, I just added a couple of minor things so I could steal a writing credit.
"It's basically his song. We were trying to think of a title and, you know, it's such a happy little song, it sounds a bit like a train song. He and Richard got to talking about Shez's grandfather, who had worked on the railroads in Mexborough.
"The ferryboat halt got mentioned so Shez came up with the name, Richard agreed and I just thought, well, this whole album is strange anyway.
"Heck, the first track is called 'The Attack of the Duck-Billed Platypus'. That was supposed to just be a working title – we have to give them all working titles because there are no lyrics – and you can't just call them one, two, three…
"We'd make things up. Somebody had been reading on google about duck-billed platypuses being dangerous. We called it that and ended up just leaving it."
Although everyone contributed to the songwriting, Eddy feels the album works as a neat summary of his 50 year career.
"Richard was the driving force behind this entire project," he said. "He and his co-producer, Colin Elliott, they both had in mind that they wanted to do something that visited in spirit the different things I'd done throughout my career.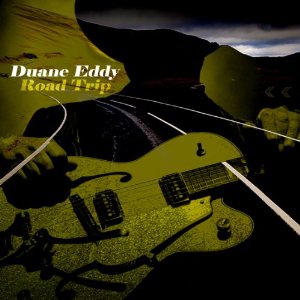 "We couldn't do all of it on the one album, but we wanted to give a tip of the hat to as much as we could and that's what we've done. For instance, 'Franklin Town' is definitely a nod to the songs of our heritage, while 'Rose of the Valley' is old-fashioned rock and roll."
Eddy believes the result is one of the best albums of his career.
"I think it is head and shoulders above most of what I've done," he said. "I'm knocked out with it. I don't know if it will be very successful. I'm not expecting to be in the top 10 on Billboard or anything anymore because the times are different and I'm old.
"But I've got that excited feeling about the album that I haven't had for a long time."
And he's hoping it will introduce his music to a new set of fans born since his last release back in 1987.
"If it does that, I'll say it's been a success," he said. "One way to think about what makes a good album, if it doesn't sell, if it doesn't reach a lot of people, then that's the other half of it. It's just an exercise in self-gratification.
"I know Richard doesn't feel that way. He likes to do it for the pure pleasure, but luckily he sells enough to be able to make the next album. I'd like to do the same, I'd like to do another album or two."
Eddy actually has another LP "in the can", the result of some Nashville sessions with producer Monroe Jones which originated when Eddy showed up at the recording of – of all things – Cliff Richard's last album.
But whether that album gets a release is unknown. It might well depend on the success of Road Trip.
As a man who hasn't put a record out in a quarter-century, Eddy is now looking forward to the process of promoting it, including a first ever trip to Glastonbury this summer.
"I don't think I've ever played a UK festival before," he said. "I may have done and not known it – there was a while there they just used to put me in a coach and I'd get out, play, and get back in and I didn't know what the heck I was doing.
"But I know I haven't played Glastonbury. I'm looking forward to it. I heard it's the biggest one in the world. If the weather's nice, and we're not knee deep in mud, I look forward to seeing it."