One of the things we love most about The Society of the Golden Slippers events is that we get to see amazing emerging artists in a small, intimate venue that looks like Oscar Wilde's living room (we saw Jake Bugg here last year and look what happened there). Tonight we feel especially smug as first act, Gibson Bull, is someone we at FFS have been championing for a while, and who in fact contributed to our very own FFS Christmas Album. With a voice like melted chocolate with a hefty dash of whisky, he sends us into old country reveries with his Civil Wars-esque brand of rootsy, bluesy Americana.
As this FFSer is fond of saying, Bull is a young man with an old, old soul – he may be a tree surgeon from the south of England but he sings as if he grew up in the American deep south hanging out with Woody Guthrie and having his heart broken once a week.  His cover of Bat for Lashes 'Laura' is, if possible, even more mournfully spellbinding than the original and drives a small knife into the heart. Currently working with producer Adam Morley from The Workshop studios, we're willing this very talented young man to do well.
The perfect foil to Bull's old-world cynicism is Sophie Ramsay, a picture of wide-eyed innocence who tells us she grew up in a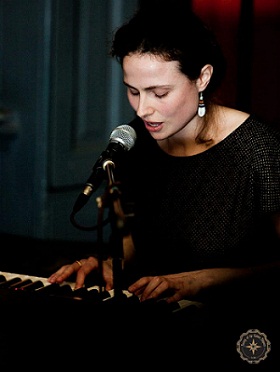 remote part of Scotland and may therefore be inappropriately friendly. She plays sweet, quirky, French horn-accompanied folk (courtesy of Jim Rattigan) with even quirkier song titles, 'Impertinent Pigeons' being a case in point. Her voice has a childlike quality a la early Joanna Newsom, but the combined result is saved from twee-ness by the fact that there's substance to the arrangements and lyrics. 'The Song I Never Wrote You', about a lover who died, is particularly poignant and very sad, although her version of 'Auld Lang Syne' sees us holding hands with the person next to us and grinning inanely.
Finally, it's Norma Jean Martine who, like Bull, makes a surprisingly mature and sophisticated noise for such a young, elfin creature. They've clearly been dishing out talent in spadefuls somewhere because Martine's vocal is a revelation – rootsy, soulful and perfectly modulated, like a slightly more country Norah Jones or even, dare we say it, Eva Cassidy. She might not cover topics as leftfield as discourteous pigeons, but when Martine sings about love and heartbreak it feels authentic. Currently produced by Ed Harcourt (who seems to get around more than Mark Ronson and who can be seen accompanying on piano in the above picture), we'll eat our hat if this young lady doesn't explode on to the scene this year.
photo credit: Brad Inglis