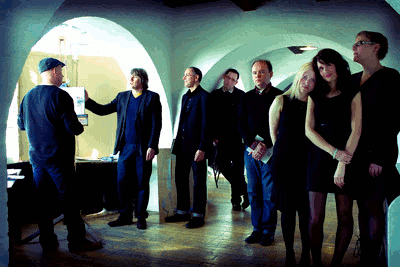 FFS's have whole-heartedly resolved to help you see more magnificent music in 2012, and what better time to start than the middle of January?
This Saturday, the beautiful Cecil Sharp House will play host to two acts we rate very highly indeed (both were
Schmercury Award nominees in 2009
) and there are still tickets available to buy for what is sure to be a lilting little heart breaker of a show.
Butcher Boy
are not only headlining in the home of the English Folkdance and Song Society, they're also being enormously kind by giving away a tempting tidbit in the form of
'The Day Our Voices Broke:
a highly effective form of inducement  if ever we heard one (click the title to download).
Support comes from king of the quotidian, Darren Hayman, who will be playing songs from new album The Ship's Piano on Cecil Sharp's resident baby grand.  If you've not yet seen "London's laureate of sexual dysfunction, discomfort, and dog-eared under-achievement" (as The Guardian like to call him), this is an opportunity to do so in thoroughly pleasing surroundings.  His new album, January Songs, will be receiving the FFS review treatment next week, so stay tuned if you like the sound of dog-eared sexual dysfunction.  We sure as hell do.
Doors for the gig at Cecil Sharp House on 21st January are at 7pm, tickets are £12.50, and you can
get them here
.