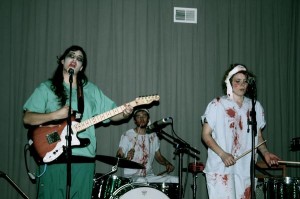 Hello, the internet! And a very Happy Halloween to you. I hope you haven't been coercered into watchingn – then subsequently jolly freaked out by – a very scary film, like us here at FFS HQ.*
On this, the spookiest of days, some of our favourite musicans have taken it upon themselves to help you celebrate, with playlists and free downloads. Help your spooky selves to this little lot…
The excellent Peggy Sue are offering their track Horror Movie Marathon as a free download:


.
The Leisure Society's Nick Hemming has made a playlist of all things macarbre: It Came From the Ground on Spotify. Quite rightly it features Talking Heads's Psycho Killer and Bowie's Scary Monsters (Superfreaks).


.

Tasseomancy have put together a downloadable mixtable over on their tumblr, including tracks from Leonard Cohen, Klaus Nomi and Yoko Ono.


.

Here's My Sad Captains playing their track 'Little Joanne' at an All Hallows-themed launch party for their split single with H. Hawkline.


.
And FFS's halloween listening of choice is Dead Man's Bones. Man of the hour, Ryan Gosling's musical side project. Listen here.


.