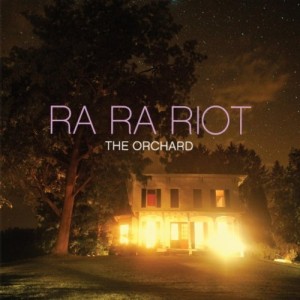 The second offering from Ra Ra Riot, The Orchard, is more of the same from this rather fun, quirky band, and that is certainly no bad thing. The title track leads things off but is a poor indication of how the rest of the album will take shape, being much darker than what is to follow.
Instead, the album really gets going with 'Boy', as Wes Miles' vocals come through amidst crashing drums and melodic strings. 'Too Dramatic', the second single released from the album in the United States, sounds ripe for a clap-along at one of their famously energetic live shows. 'Massachusetts', meanwhile, builds gradually into a song of lush harmonies, dramatic drums and gentle strings, something that may sound like something of a contradiction but works very well and gives you the feeling of speeding.
They then tone things down for the appropriately-named finale 'Keep It Quiet', a stripped back affair on the piano which provides a nice wave goodbye from an album dominated by big instrumentation.
It caps another solid piece of work, in which the influence of Death Cab For Cutie's Chris Walla and Vampire Weekend's Rostam Batmanglij, who mixed the album, are apparent. The Orchard isn't going to set the world alight, but it's summery pop sounds are definitely worth a listen, and it seems well placed ahead of the festival season.
Words: Eala MacAlister