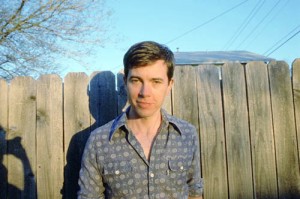 When Bill Callahan walked onto the Barbican stage it was as calmly as if he were going to put out the bins. His blue-grey hair was combed respectably and his suit was stiff and formal, more like he were a child dressed up ready to play the piano at a wedding than a man whose critically-acclaimed career spans two decades and fifteen albums. His gestures are mannered and few – a cocked eyebrow, a twitching leg, fingers twiddled comically to stretch them between songs. His face, although expressive, is inscrutable. And while he was polite and gracious with the audience, in person he is so solemn and quiet as to be almost invisible.
Playing to a full house, Callahan was accompanied by Neal Morgan, erstwhile drummer for Callahan's old flame Joanna Newsom, and electric guitarist Matt Kinzie. They moved with the focused and easy grace of swimmers through the first few songs: mainly from his last two albums: recent release Apocalypse and 2009's Sometimes I Wish We Were an Eagle. The arrangements of the new material were calm and measured, peaking with satirical stomper 'America', which got huge cheers. 'Eid Ma Clack Shaw', on the other hand, was rearranged – new chord sequences, key changes, dramatic drums and Callahan, loosening up a little, starting to do his odd and delightful twitchy-crouching troubadour dancing.
Midway through his set (just as on the new album) came 'Universal Applicant', hinging on Callahan's imitation of a flare gun going off in the silence of the room with an electrifying "phoooooo – pow!"   The crowd sat completely still, all eyes on him, and when he followed up with a stony and unbearably tender version of 'Our Anniversary' – "We are far from flowers/ Cut and dried/So let us thrive/ Just like the weeds" – we saw people wipe tears from their eyes.
'Say Valley Maker' and 'Let me See the Colts' from 'A River Ain't Too Much To Love'  were controlled and understated, with Morgan drumming barefoot and with his palms and Callahan wandering around the stage. His focus when playing is phenomenal to watch: strict, stoic and internal. There is no starry posing or preening – no "Hello London!" anecdotes, only taciturn "thank-yous" and wry instructions to his band mates. All his energy is on the music itself, and this made for a performance of enormous intensity.
That said, it was not flawless. Without the violin arrangements of the album version 'Drover' lacked some of its grandeur – but no-one seemed to care. Callahan fluffing the words on 'America' didn't seem to matter either, nor that he picked up the wrong harmonica and played three notes in the wrong key on 'Jim Cain' before retreating into the shadows at the back of the stage for a few bars to regain his composure.
Callahan is one of those musicians so terrifyingly direct and moving that his fans are willing to take his mistakes as a thrilling sign that he really is human, despite the flinty, otherworldly beauty of his songs and his anti-social reputation. He walked off after the encore without a backward glance, leaving a hall of people struggling to find words for what they had just seen. Well, we cannot have him, but we can have his music. All is right in the world.
Words: Jen Rouse