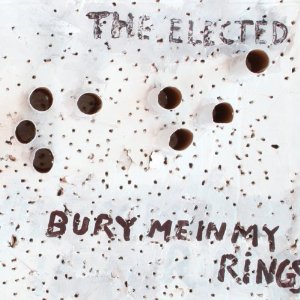 Every new album from The Elected – the solo project of Blake Sennett, not so long ago of Rilo Kiley fame – has shown a new incarnation. Their 2004 debut Me First saw sampling and electronica interrupt country melodies, the follow-up Sun Sun Sun was drenched in dreamy bird song, and their latest Bury Me in My Rings hints at yet another, distinctly retro, direction. Yet throughout it all there have been the constants of Sennett's dreamy voice, pitched just-so; his ability to write unromanticised tales of love and articulate deep fear and insecurity; plus the presence of the likes of Mike Bloom, propping everything up with breezy instrumentation.
Through the use of barely-there harmonies and string scapes, Bury Me in My Rings has a gentle, understated quality. With repeated listening each distinct track can be stripped back to its component parts to reveal intensely subtle lyrics, while the album as a whole flows skilfully between styles. This is even true of the retro vibe of 'Babyface' and 'Look at Me Now', which threaten to throw the whole endeavour off track with their swirling synthesisers and frothy drums – the seemingly inevitable by-product of the Fleetwood Mac influences present on Rilo Kiley's last offering Under the Blacklight. 'Go for the Throat' is far more successful, with a confident swagger and rousing singalong that throws down the gauntlet with a bitter "You think you're so cool" and drowned-out ranting.
'Trip Round the World' instantly feels like an old friend, as a lap-steel slides like waves on a shore underneath the crisp strumming of a ukulele and Sennett crooning as though through an old radio. It is a companion piece to the 'Desirees' and 'Ripchords' of yesteryear and a powerful reminder of the central role Sennett played in Rilo Kiley's greatest songwriting. 'Have You Been Cheated' is another echo of what The Elected do better than anyone else – a no-holds-barred and emotive tale of a life that does not meet expectations: "Just goes to show/you get what you take." Where in the past it would have been a staple, the classic pairing of voice and guitar on 'Jailbird' actually stands out on an album that experiments so freely with musical styles.
There is much to recognise and love from The Elected of old on Bury Me in My Rings, which succeeds in furthering the band's style and songwriting while leaving the impression that however much he may want to, Sennett cannot escape his past. The story goes that this album nearly never existed and that Sennett, disillusioned in music and focussing on filmmaking, had to be persuaded into the studio to even think about resurrecting the band. If this is true then Bury Me in My Rings is one of the most serendipitous accidents imaginable. It is a strong reminder of what makes Sennett one of the greatest songwriters to have tracked California's Highway 1, while offering something distinct and enjoyable which only makes you hope that he's not ready to give up on The Elected just yet.