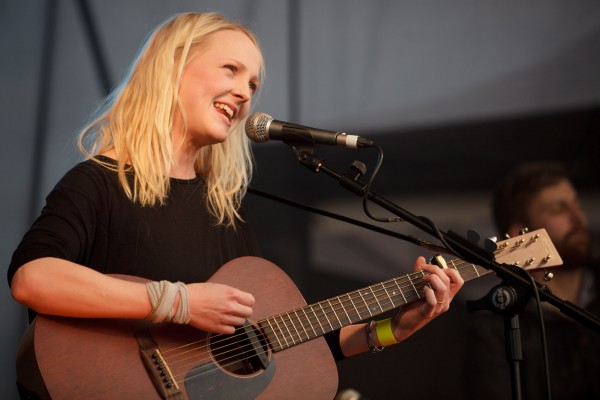 There's a new contender for the UK's loveliest small festival. Honeyfest was organised after villiagers in the Wiltshire town of Pewsey were given lottery funding to take over the running of their local pub, The Barge Inn.
As well as it's unorthodox organisation, The Barge Inn is known as the official world headquarters of the crop circle fraternity. And the otherworldly theme was continues with the launch at the festival of a day-glo green beer called Alien Abduction. FFS was driving, otherwise we would've certainly tried it *ahem*.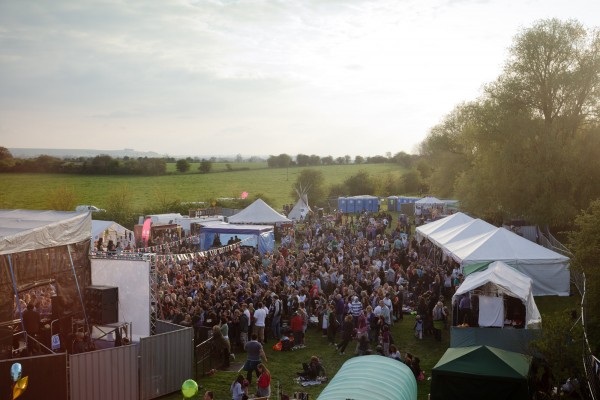 After a delightful AA man rescued us from near vehicular disaster, we arrived at the festival in time to see Dry the River. Friendly and chatty, with a shout out to their mums, set highlight was Weights & Measures. The Magic Numbers, who followed, were in good spirits looking for all the world like a flashback, so little have they changed since their days of appearing on Top of the Pops. They performed a mix of classics and new tracks including a sing-along version of She Don't Love Me Like You. Their harmony filled cover of Neil Young's Harvest Moon had the 1000-strong crowd singing along.
The highlight of the festival for FFS was, quite predictably Laura Marling, playing tracks from both I Speak Because I Can and Alas I Cannot Swim, as well new songs – which she apologised for playing lest the audience get 'bored' – a medley of Selinas and Don't Ask Me Why and My Friends. Despite a few techical issues – including a malfunctioning smoke machine, a confident Laura seems to enjoy herself, and is lapped up by the crowd, most of whom seemed to be there to see her.
Last-minute announcement Damien Rice shambled on stage looking for all the world like Badly Drawn Boy. He played a crowd-pleasing set of tracks mainly from 2003 debut O. And for a finale befitting the success of the festival, he invites Dry the River and The Magic Numbers on stage for performances of I Shall Be Released and Hallelujah.
It's not every day you'll find the best folk singer in Britain, some hotly-tipped up and comers, and the twee-indie-pop output of 2005 hanging out in a field in the middle of nowhere, but with a bit of luck, after this year's triumph we can expect more of the same from Honeyfest next year.