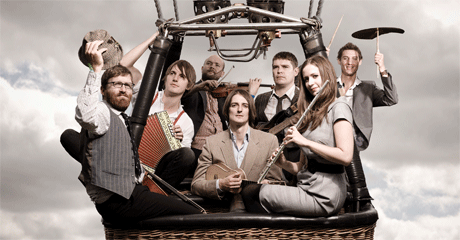 >> Go back to Part 1 of the interview to read more about Into The Murky Water, and the Leisure Society's celebrity fans
FFS: When you were first nominated for an Ivor, all the papers seemed to be trying to make it into a rags-to-riches story, as though you'd come out of nowhere. Was that annoying?
Nick: It was embarrassing – when you've got BBC news cameras saying 'can you just wrap that pallet for us' but at the same time it was – we're getting publicity for our album – so I was kind of happy about it. But it was very awkward. I used to be terrified about doing interviews before that. I'd never do interviews with all my other bands I was in but because I was thrust into it and had to do ridiculous things after that I can handle anything.
FFS: The Leisure Society started out as Nick writing film scores, is that something you'd like to do again?
Nick: Yeah that's something I think would be great, I think we could do such a good film score. We've dabbled with it a little bit.
Christian: We make a point in every interview of saying if Wes Anderson happens to be googling himself and catches our quote, we'd love to do a Wes Anderson score, or a David Attenborough nature documentary.
Nick: We thought we'd been followed by Wes Anderson on Twitter the other day, but then we realised it wasn't him. But that would be the dream job though. We've done some music for Paddy Constantine's film which is coming out in October called Tyrannosaur. He wrote it and directed it. He's used We Were Wasted off the first album. The film's just won two awards at Sundance so hopefully that'll be our foot in the door.
FFS: Would you prefer to do a film soundtracked by pop songs, or instrumental stuff?
Nick: Really orchestrated stuff that's what I'd like to do. It would take the pressure off, because there's a certain pressure when you're writing pop songs that you wouldn't have if you were doing a straight score because you're just trying to complement somebody else's work rather than put your own message across – you're just trying to react to what they've done.
FFS: What's the pressure when you're writing a pop song?
Christian: It has to mean something
Nick: Yeah definitely, because all my lyrics are so personal there's always that voice at the back of my mind saying is it going to alienate people. I like to write lyrics that can be interpreted in more than one way so it's not too exclusive really, so I always try and do that.
FFS: So the lyrics don't come first for you?
Nick: No, music always comes first, sometimes I'll have a rough idea but usually the lyrics, I labour over them for months after I've finished the music, usually it's sleepless nights and obsessing over it.
FFS: What do you enjoy the most about being in the Leisure Society?
Christian: We've just had a very intense year and a half making this record, which at times has been joyous, and at times has been terrifyingly stressful and now we're touring which is also really stressful and also really joyous – it's all part of the same package. We love touring – I can't wait to do this tour because we've put so much work into it but I know when we've finished we'll be desperate to go back into the studio. So I think we enjoy both aspects of it equally.
Nick: There is something amazing about being in the studio say if you're doing backing vocals and you're just coming up with things together there's something really creative about it.
FFS: Will you write when you're on tour?
Christian: Yeah he will!
Nick: Maybe little bits…
Christian: They eke out don't they?
Nick: Yeah little bits, but I'm generally quite shy so if I know anybody can hear me playing, then I can't.
Christian: The key to it, Lynn, is to catch him when he's drunk so at 2 in the morning driving from Germany to Switzerland he'll start strumming 'Into The Murky Water', I'm thinking specifically of a year ago, and I'll start humming a backing vocal and it'll get a bit sexy and then he'll carry on and before you know it we're jamming a new song. But he'll never go, 'Guys I've just written a hit', that'll never happen. You get him with a harmony, that's how you get him. That's my job.
FFS: There are always brilliant moments of harmonies on your records.
Christian: There's no substitute for vocal harmony.
Nick: That is the most joyful thing, singing harmony with three people is the most uplifting experience.
Christian: In this album there's some complex harmonies, less instinctive and more worked out. A song that sounds simple like 'Better Written Off Than Written Down', it sounds like a simplistic sound but actually musically the harmonies are quite complicated.
Nick: We actually got an opera singer in, for 'Into The Murky Water', to do some of the stuff that we couldn't quite do so that was a new thing for us.
FFS: You've done some great covers – like 'Cars' and 'Something', would you ever think of doing a covers album?
Nick: Yeah that'd be nice.
Christian: But I've got one of the best songwriters in the world in my band!
Nick: We hated doing covers originally, but we've been asked to do them – for a compilation album or a radio station – and when we've done them they worked out really well.
Christian: We got asked to do one for Dermot O'Leary. And Nick and I were in the garden having a cigarette thinking of songs that are known but aren't obvious. Everyone always does a Beyonce or a Britney and it's a bit trite. But Cars is a beautiful song and the arrangement's amazing. 'Something' is obvious but Mojo asked us to do it. We just did a Paul Simon cover, one of Nick's favourite songs. Me and Julio Down By the Schoolyard.
Nick: We're going to that live because it's so fun to do. We're doing a Smiths cover too – That Joke Isn't Funny Anymore, for American Laundromat Records – who are doing a compilation.
Christian: If we keep getting asked you could put all the covers together and make an album. But actively making one, I think a covers album is the last bastion of the lazy songwriter.
Nick: It's what everyone does when they need to fulfill their record company contract.
Christian: But a compilation, I could live with that. There's a little bit of Burt Bacharach on the new album.
Nick: One of the songs was inspired by, I've never written a song like this before, I was watching Butch Cassidy and the Sundance Kid and there's a song called South American Getaway and it's an acapella thing and then it drops down to this instrumental section and there's just two chords. And it just started playing and I was like 'that's amazing' just two really simple chords and a bassline – and I started strumming my guitar then I went into to the other room and wrote a song that started with those chords – The Hungry Years – so on the album it says Hemming-Bacharach on one of the songs.
FFS: You both grew up in Burton-on-Trent. How did you meet each other?
I was a couple of years younger than Nick, and he was playing in a band called Unisex, who were an offshoot of the Telescopes, they were Burton's success story – signed to Creation – and Unisex were amazing. Nick wasn't Nick then, he was a lead guitarist.
Nick: I was trying to be Johnny Greenwood.
Christian: He was succeeding to my impressionable eyes. I was a bit in awe of Nick. Through a mutual friend we would meet up occasionally. And I think we had one jam in my bedroom when I was 17 or 18 and we gave each other a bit of a nod. Cos I was a good keyboard player and Nick was a good guitarist. And it was only when we were a lot older that we came together. Burton's an industrial town where they make beer and marmite and stuff. And if you're creative it's not frowned upon but The normal thing is to finish school and get a job. it's seen as an indulgance to create. In London or Brighton everyone assumes you're in a band or writing a book. But in Burton it's a weird thing to be. Creative people tend to congregate. The hub of the Willkommen collective is actually from Burton. Tom and Jake from SONAA are Burton lads and Tim West from the Climbers is from Burton. He introduced me and Nick. And Burton has produced Paddy Constantine and Shane Meadows before that as well.
Nick: It was kind of a slow emigration. Tom moved down to Brighton – he came out – he'd been living a lie in Burton.
Christian: Then we came out as songwriters. Nick moved in with me to play in my band in London.
Nick: I played in Shoreline and Sons so I used to go down to Brighton every week and I came close to moving down there but I had too much going on with the warehouse, you know.
FFS: How long were you working there?
Nick: Two years.
Christian: Nick was working throughout the making of the sleeper. I had signed a management deal for my solo stuff. I was doing a dayjob but only a couple of days a week. You describe what we were doing then and it sounds completely ridiculous, we were completely lost, I think it's fair to say. But whatever I was doing and whatever Nick was doing it ends up with what we were doing now and it all just seems like it makes perfect sense.
>> Go back to Part 1 of the interview to read more about Into The Murky Water, and the Leisure Society's celebrity fans
>> Read our review of Into The Murky Water