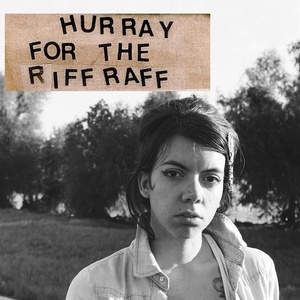 Louisiana's Hurray For the Riff Raff make what they call 'melodramatic popular songs' – and sound a little like a darker Be Good Tanyas with their harsh, growly, female vocalist, banjos and resonant, deep, slow drums. It's a formula that has earned them some impressive hype from unexpected corners, and even The Sun has got involved.
All of that raises expectations, but they more than meet them once you let their album grow and reveal itself over several listens. They make a strong start, as opening tracks 'Meet Me In The Morning', an instrumental, and 'Is That You' have a rocky sea-swell of energy and drifting squeezebox sounds that dip and lift like a ship in the distance.
Brilliant tracks then jump out of you as the album gets going, the magnificent Little Things – with it's jilted-lover cry-along chorus – while towards the end 'Junebug Waltz' and 'Sali's Song' are both spectacular and might have made better closers than 'Young Blood Blues'.
If it wasn't for those few tracks overshadowing the others you would realise that 'Slow Walk', 'Daniella', and 'Take Me', are actually pretty spectacular in their own right too. They are less dynamic than their neighbours but equally rollicking and with brilliant lyrics that take their time to sink in.
The result is a slow burning journey through ordinary moments and disappointing lives, just like all good country music should be. And like a life, it has its showstoppers and its quieter, more contemplative moments. All in all, I don't see myself tiring of this album for a long time to come.