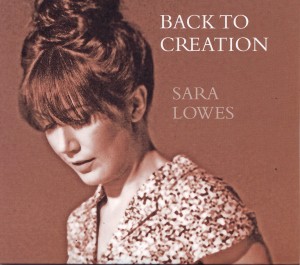 Sara Lowes has been on the fringes of the cooler kids of the music industry for some time, having collaborated with the critically-acclaimed likes of King Creosote and the Earlies. She finally steps into the limelight proper with Back to Creation, a breezy, summer-inflected album that features just the right amount of quirk to keep it interesting.
The muted design of the album cover and the beehive haircut Lowes sports on it are a good indication of the deliberately retro sounds inside. The influence of British, 1960's girl-pop is clear throughout: 'Untitled', an upbeat pub-piano love song augmented with 'Strawberry Fields' melotron , puts the listener in mind of a young Cilla Black twirling about Carnaby Street in a miniskirt, while 'I Wish' combines an unsettling time signature and hypnotic vocals to full twiddly-guitarred freak-out effect. Meanwhile, things go fully psychedelic on 'Caught In A Wonder'; the phased lines about soldiers, patterns and moons becoming engulfed in spooky spaced-out special effects.
However, the stand-out tracks are the most straightforward. 'Vapour Trails' gets the balance of catchiness, retro-production and winsome vocals just right. 'Single Girl' is brassy both literally and thematically, Lowes adding a contemporary touch of sarcasm and modern malaise to the Paul McCartney style trumpets that blare out in the background. It's a shame they've arrived so long after the hey-day of 45RPM singles because both would sound great spinning on a Dansette in some suburban bedroom.
Perhaps it is all a bit arch and self-conscious, but then everything is these days: even this review. Back to Creation is a great album. It should become essential summer listening for the better class of hipsters up and down the country ­– those who, despite their best efforts, can't help but show a little bit of heart.
Words: James Robinson