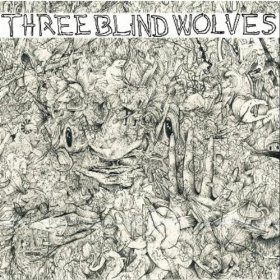 Three Blind Wolves signed to Communion Records after making a serious impression at the label's Christmas party at the Notting Hill Arts Club in 2010. The Sound of the Storm had previously had an extremely limited release on the band's own label, mainly in their native Scotland where they were gigging heavily.
Before releasing it to the masses, the band and Communion producer Ian Grimble took the opportunity to re-record some songs and add a new track 'Echo on the Night Train' to make this a seven-track mini-album. Three Blind Wolves have built a reputation as a great live band and that really translates on these recordings; particularly on 'Captain of a Ship' (a sort of modern, cooler sea shanty) and 'Echo on the Night Train', which has long been a live favourite but which the band hadn't been able to do justice in the studio until this point.
The band manages to combine a wide range of influences into a new sound of their own. There's the striking surf rock mixed with old fashioned Celtic foot stamping of 'Black Bowl Park', the wall of noise opening of 'Hotel' the ever so slightly quieter (but still fairly raucous) 'Emily Rose', the organ on 'Three Blind Wolves' and the Sixties hand claps of 'Hopeless Romantic'.
Lead singer Ross Clarke has a very distinctive, strong voice that stands out across the whole of this album. He's a story teller who can move from quiet and delicate to powerful and gravelly easily and he never spares his voice. It all comes together on a mini-album that makes you want to go and see Three Blind Wolves sooner than now.
Words: Kim Deadman