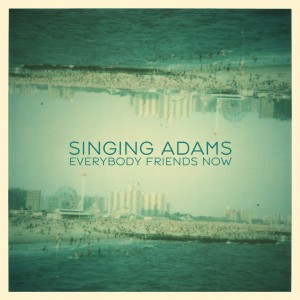 Students of lyrics will find plenty to keep them happy on Everybody Friends Now by Singing Adams, the current guise of former Broken Family Band frontman Steven Adams. Musicians, however, may struggle a little more.
There are enjoyable little nuggets sprinkled throughout the album's 11 tracks, from the catty "you keep touching everyone and saying you're in love with them" on 'Injured Party' to 'Married Woman''s heartbreakingly self-deceiving "I will stand my decisions and my decisions were right".
'I Need Your Mind', with its urgency and sense of stifling inadequacy, is a real standout, a fine marriage of form and content. "I need your mind but I can't keep with it," Adams sings, as the incessant drum beat drags the tune along with it. It's a real achievement, but sadly it could be Adams the musician singing to Adams the lyricist because too often he cannot find the vehicles to do his words justice.
Part of the problem is Adams' vocal style. Laidback delivery is one thing but at times he sounds plain uninterested – and if he can't be bothered why should anybody else? He just about gets away with it on slower numbers like 'The Old Days', touchingly bemoaning dwindling powers and relevance, and 'Giving It All Away', which oddly seems to be a direct response to 'I'm Not Gonna Teach Your Boyfriend How To Dance With You' by Black Kids, while the rare upbeat tunes seem to shake him out his stupor.
Too much here though is non-descript and, frankly, forgettable. Stephen Malkmus, another who went solo to slightly underwhelming effect, is an obvious reference point here, while some tracks, like oddly lacklustre opener 'Move On', feel like facsimiles of tunes from the blander end of Belle & Sebastian's back catalogue. There's half a good album here, but just not enough that demands to be listened to.
Words: Ali Mason